April 20, 2020
Posted by:

Admin

Category:

Healthcare App Development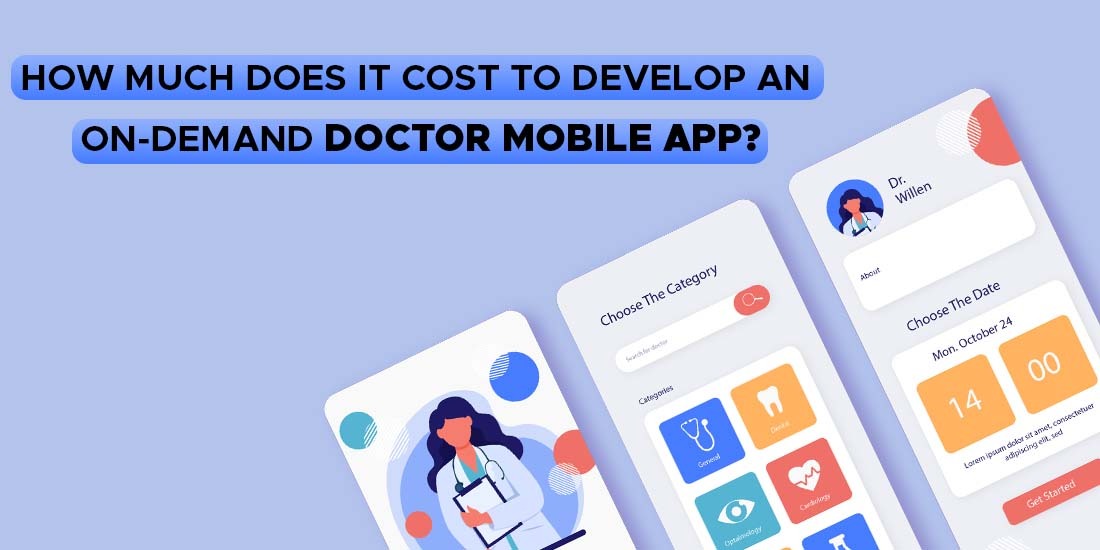 On-Demand Doctor Mobile App Development Cost & Features?
The wave created by the mobile application in the field of business is not so small. It is redefining current business models, structures and frameworks. Many of the conventional ways got disrupted right after mobile applications were introduced. Mobile applications have created a brand new ecosystem were entire business operations were streamlined and made less complex.
Nowadays, we can find exponential growth in the number of mobile applications available in the market as it is gaining huge customer traction. The features facilitated by mobile applications are much higher when compared with conventional ways. Each mobile application stands for serving each purpose. In a nutshell, we can say that mobile applications are in the frontline of digitalizing our economy beyond industries. In this blog, we are going to see in detail about the category of a mobile application that is streamlining various industry standards and processes. We will also see in detail the cost of developing a doctor consultation mobile application, it's in and out features, characteristics, technologies used and much more. So let s get started.
More about an on-demand doctor consultation mobile application
On-demand physician consultation mobile applications are gaining huge traction as users are using more of digitalized products and platforms. In the current tech-savvy world, an online doctor consultation mobile application offers a wide range of hassle-free opportunities for patients in getting connected to the right doctors at the right time. The ultimate aim of these mobile applications is to act as a platform that works for the well being of both end customers and doctors. These applications are also offering endless possibilities for entrepreneurs who are coming up with an app of this kind. Because of the advantages and benefits an on-demand doctor consultation mobile application possess, entrepreneurs out there are actively looking for the answer to how much does cost to develop an on-demand doctor consultation mobile application.
Read More..: How much does it Cost to Develop Pharmacy App like NetMeds?
Need for an on-demand doctor consultation app
Patients need to wait at the hospitals for a long period to get an appointment with the doctors they need to consult. This was the kind of situation that existed a few decades back. With the arrival of smartphones and mobile applications, things got changed drastically. On-demand doctor consultation mobile applications have given the full power to the users, where they can make and book doctor's appointments in a seamless manner. The main change put forward by these mobile applications is that they have added more transparency and streamlined entire operations. These applications are helpful for both doctors and patients.
Advantages of an on-demand mobile
· Streamlined operations
· Enhanced customer experience
· Highly efficient
· High degree of productivity
· Patients can skip long consultation queue
· Less manpower for booking management
· Online doctor consultation
· User friendly
· Hassle-free booking process
Features of an on-demand doctor booking mobile application
To deliver exemplary customer experience and on-demand doctor consultation mobile application should have certain mandatory features integrated to it. These features are mandatory that it determines the success of the mobile application. Let us see in detail, what are those requirements.
· Sign In/ Sign Up
Each user needs to be given the advantage of starting an account on the mobile application. This will help them in accessing their own space on the application. By using their email address, mobile number or even social media handles, a user will be able to create an account. Right after the successful registration, they can make use of the credentials to log in to the application.
· Profile
The exclusive private space for the users can be called as the profile. They will be able to access a list of activities happening on the account. They will be able to change the user id, password, communication details, and various other fields.
· Interactive dashboard
One of the major factors the online doctor booking mobile application should have is a highly interactive dashboard. It should have a high degree of security and need to have eye candy designs and user interface.
· Appointment scheduling and booking
For the users to make use of hassle free ways of booking and scheduling, the application should have an outstanding appointment and booking scheduling system. This helps the users in booking the right time slot for which they need to make the booking. This has added more transparency when compared to the conventional ways.
· Location integration
The location of the hospital or the clinic should be easily accessible by making use of the mobile application. This helps the customers in staying on top of all the hassles and bustles seamlessly.
· Order history
Under this section, users can find out the detailed list of their past consultation history. They can find out all the details including heir previous prescriptions, treatment details, medicines, etc.
· Listing and content management
This section is a must factor as it helps patients in finding out doctors they are searching for. It should also have various categories in the medical space.
· Reviews and rating
Review and rating system allows users to deliver their finding and opinions by their previous consultation. Hey, can rate the doctor on a scale of one to five stars on an increasing basis of customer satisfaction.
· Payment Gateway
In-app payment allows the users in carrying out hassle-free ways of settling the consultations fees. The payment gateway should support all kind of latest payment systems and has to be highly safe and secure.
· In-app chat support
Proper customer assistance is what makes a customer think whether he needs to be a regular user of the business or not. Integrating a chatbot can help businesses deliver enhanced customer experience.
How much does it cost to develop an online doctor consulting mobile application?
Entrepreneurs out there are actively looking out for more opportunities in coming up with online doctor consulting mobile applications because of the scalability in the business opportunity they are offering. All of them are busy searching for the app development cost to build an on-demand doctor consultation application. Coming to the costing side of a consultation application, there are several factors bound to it. So we are going to see what those factors play a major role in deciding the costing part. One of the major factors is the app development platform or the platform for which the application has been built. Currently, there are two major platforms, iOS, and Android. Coming to the second factor, technologies used in the mobile application also is a main factor that is bound to the app development. Features of the mobile application also need to be considered in the costing part. App maintenance is also a crucial role that determines the app development cost. There exist various other factors that need to be taken care of while geting the app development process. Anyhow, the cost of developing a fully-fledged physician consultation mobile application will be approximately USD 10000 to USD 50000. The price may vary based on user requirements.
DxMinds Innovation Labs- the best on-demand doctor consultation booking mobile application
DxMinds Innovation Labs is a leading digital transformation and on-demand medical consultation mobile application development company that offers in-depth services across various domains of mobile application development. Highly talented engineers and professionals at DxMinds work seamlessly towards the goal of making your dream come true. For more details on how DxMinds Innovation labs help you develop a fully-fledged doctor appointment booking application, drop a mail to info@dxminds.com