October 11, 2022
Posted by:

Admin

Category:

Famous App Analysis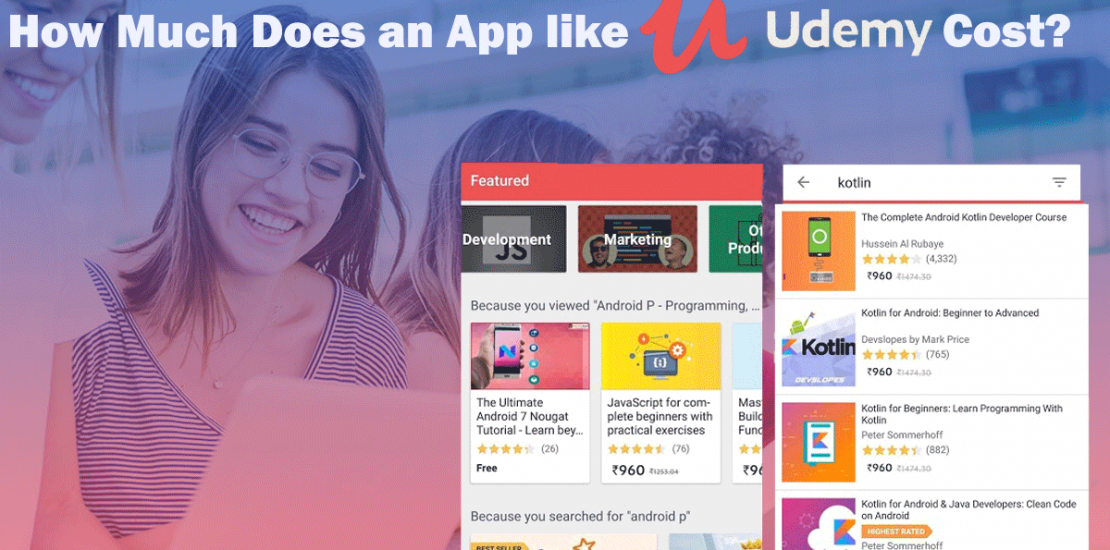 How Much Does an eLearning App like Udemy App Clone Cost?
Education is the flow of the learning process and it's an achievement of skills. Knowledge value belief and habits. Education is a significant tool in the business world. Most of the organizations are lacking due to no support from the education module. This is where the e-learning portal and website take place. E-learning apps are more useful and easier to learn from them. If you look back, even the education sector has also been transformed at 180 degrees digitally. Now people always refer online to learn something new it could be from teenage to professional workers. The days gone back long ago where people used to carry books to read now things are available in internet space in various formats from word to image & video which can be easier to understand I would say. You may have also known about online methodology that has changed in a well manner called E- learning or m-learning.
What is Udemy?
Know more about Udemy App
where students can register and they can learn from the Udemy app. It gives a wide library section of more than 40000+ Udemy courses trained by expert best-selling Udemy guideline. Udemy mobile application is a place to choose a new talent within you. A very interesting thing about Udemy mobile applications is that you can access the courses from different-2 devices and another platform including a desktop / laptop, Android app, iOS app, and Apple TV app and it's any point of time. DxMinds is a global mobile development company in Bangalore, Mumbai, Pune, Gurgaon, New Delhi, Singapore, San Francisco, Dubai, PERU, Australia, expert in mobile application development and have served more than hundreds of entrepreneurs to develop successful e-learning apps with innovative features. In this article I will guide you on how to develop an e-learning mobile app like Udemy.
What is the Success story of Udemy?
E-learning mobile App is a solution when any institute and organizations run out to help the education system to educate the people. As Companies want to enhance their resource quality and productivity they need knowledge enhancement and new learning skills. Udemy has become a solution for all problems. To Inspire a flexible way of knowledge transfer and growth training. It is very important to develop a tool which can enhance the ecosystem and is available and accessible 24/7.
Udemy was founded in 2009 by Eren Bali. Udemy headquarters is in San Francisco, California, United States. Initially they have started to provide free courses but when they release the power of the internet and the potential of future capabilities of this online e-learning business. They introduced monetization of Udemy app.
It is one of the milestones in E-learning space to have 80000+ courses available and used by 35k real world instructions. Udemy has 24Mn students across the world.
These numbers say very clearly that Udemy has been accepted by customers on a very large scale.
What is the Feature of E-learning mobile app like Udemy?
If we talk about the cost of e-learning mobiles app development like Udemy, it is important to understand first to consider the essential feature that Udemy focused to build an e-learning app like Udemy.
Best Quality of Online Courses
No strict essentials for course subscription
Accessibility on Multiple Devices
Offered Best price courses
30-Day Money-Back Refund Policy
OneClick Access in desired format
Forum
Course Description & Transcript
Lifetime Course Accessibility
Video control
Student feedback & Reviews
Course Tutors and Subject Specialists
Certificate of Validation
Best Quality of Online Courses –
Udemy offers various types of courses with filtered categories. It could be from designing, Software development, music or creativity. Every course is available in a very easy to read manner along with categories and sub-category which enhance the reader's interest to stay on E-learning applications like Udemy for a longer period of time.
No strict essentials for course subscription
Udemy has no-validation on course subscription. You can register any course without any hustle or eligibility limitation. If any software Course has 20 categories then you can access all 20 courses without any question asked from the Udemy Team.
Accessibility on Multiple Devices
If you have registered yourself on Udemy or if you have purchased any course from Udemy then you can access your course from any of your desired devices such as Apple tv, desktop. laptop or Udemy mobile application as well.
Offered Best price courses
Udemy offers the best price on all courses available on Udemy mobile applications. This is the best deal and low price on learning service are what Udemy is known for. There are few courses available on Udemy which may cost more than $500 or $1000 based on course.
30-Day Money-Back Refund Policy
This is something almost every student or professional has a concern about refund policy. In case of any issue while learning so that Udemy has a very open option to take money back if any user faces any type of issue or change his mind within 30 days.
OneClick Access in desired format
Udemy (Best online e-learning mobile applications) offer time payment feature. To learn any course, you have to pay only one time for particular course.
Forum
Udemy has a feature on the app where students can share problems and discuss courses.
Course Description & Transcript
Before jumping to purchase the Course student can see few insights that what they are going to look for?
Lifetime Course Accessibility
Udemy has a onetime payment feature for all courses. Once you have taken any courses then you can access your course lifetime 24×7.
Video control
Every category has a video explainer about the topic which you choose to learn. It will be similar to a YouTube video. It enhances the quality of the available course on Udemy. where students can learn in Text and Video format both.
Student feedback & Reviews
Students can share their feedback and rate each and every course available on the Udemy app. This is another interesting feature of Udemy where Next student can analyses the quality of course before making the payment for course.
Course Tutors and Subject Specialists
Tutors who provide the courses material are well experienced in their particular subject and contain through domain knowledge.
Certificate of Validation
Udemy establishes an online academic education system where many courses end with certificates of knowledge for students upon completion.
How Much Does it Cost to Develop an e-Learning App like Udemy cost?
Acknowledging that you require a mobile app development service provider to build a full-fledged, simple and intuitive e-learning App like Udemy, you will have to keep the budget based on the estimated avg per hour cost of $70 – $150.
To create the app more competitive in the learning and education market and add the factor of scalability, you need to design the app in such a way that scores value to the students and professionals likewise.
Over all-round requirements into a statement, the total cost to build an app like Udemy would fall in the bracket $35000 to $1,00,000.
Now is the perfect time for entrepreneurs and academic institutions to be as successful as Udemy and make well-known online eLearning mobile applications. An e-learning brand that promotes virtual learning and skill development models, allowing instructors to train students and enable active learners to absorb course content at educational institutions.
Conclusion
After all this explanation, I would like to briefly mention some of the other factors also dependent on the app development cost of Udemy mobile application. By taking all these conditions into account, at a leading mobile app development company like DxMinds, you will be charged around USD 20,000 to USD 1,00,000. This can vary based on the requirement. If you Want to know the Udemy app development Cost in Bangalore, Pune, Mumbai, Delhi, Noida, Lucknow, Gurgaon India and San Francisco USA. Kindly Contact us or drop an email at info@dxminds.com today, get the best quote estimation.