October 10, 2022
Posted by:

Admin

Category:

Famous App Analysis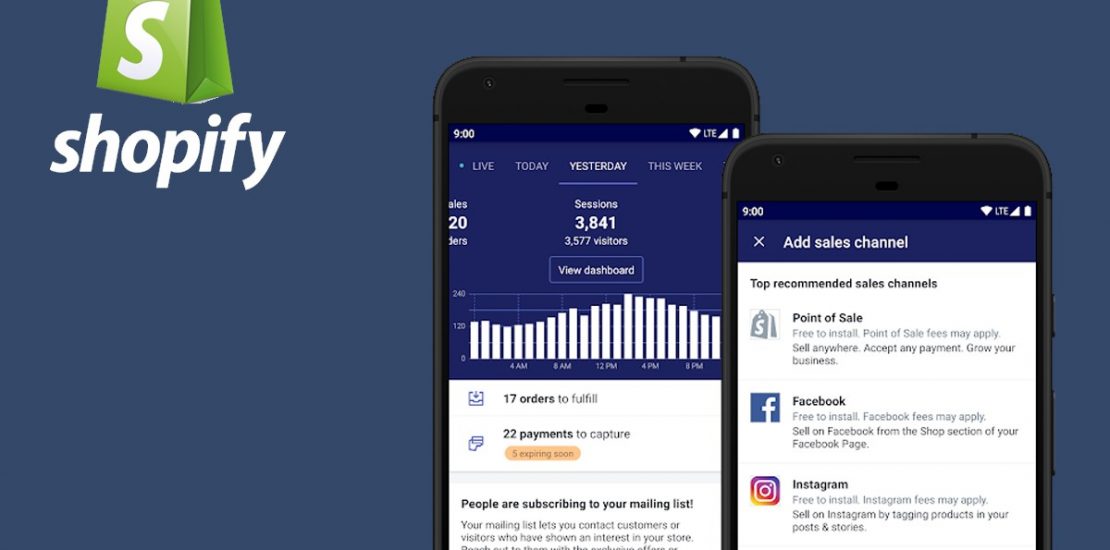 Shopify eCommerce Website and App Development Cost
If you work with an online shop, you won't get the fully functional and automated shop you need with the basic model. The Shopify App Store is full of hundreds of great apps that help sellers optimize their daily tasks, add new store features and simplify business management. Of course, customers are generally interested in the cost of developing the Shopify app (approximate amount) to plan the project budget. When hiring an application development team, low price and high quality are top priorities, whether from the UK, US or UK Ukraine. This fact is clear to us when we develop Shopify projects for startups and small businesses around the world. Today I will de briefing you to build a mobile app like Shopify and How does it cost to develop an app like Shopify?
Let's Begin
Feature of E-commerce Store App like Shopify
Run your business wherever you are. Whether you have one or multiple Shopify stores, this app makes it easy for you to manage your orders and products, connect with staff, and track sales. If you have plan to make mobile application like Shopify application then you need to understand shopify feature and you have to implement in your business. Let's discuss one by one.
Order Processing
-Order Fulfillment, Order Refund, or archive orders for each of your store locations
-Invoice and drop shipping labels
-Manage Inventory tags and Additional notes
Add Timeline comments
-Track Sales conversion directly from your order details
-The business owner can create new draft orders and send them to your customers
-Fraud Activity Analysis
Manage Product Catalog and Latest Collections
-Add products manually or through barcode scan
-Edit Product information and variants
-Create and upload auto or manual collections
Manage tags and categories
-Describe Product availability and sales channel
-Sync with a third-party e-commerce site like Amazon, eBay, and more
Create Paid Marketing Campaign
-Grow sales with a Google Smart Shopping campaign
-Create Facebook ads on the go
-Analysis total conversation and get custom recommendations to improve your results over time
-Write new content for your blog
Follow up and customer information
-Business Owners can do a marketing campaign
-Customer Information
Generate Coupon and Discount
-Create Discount Coupon Code
-Track Deals Codes
Sales Analysis
-Store Owners can see the sales report on daily/weekly/monthly
-Sales Analysis to across your online portal with a live dashboard
Sales Funnel
-More Sales Channel
-Reach your customers on Instagram, Facebook, and Messenger
Increase your store's Specialties along with mobile apps & themes
-Business Owners can access orders, products & customers with a single tab in Shopify application.
-Search listed catalog of free themes and change your online e-commerce store appearance/customer design.
What Can Affect the Cost of Developing Mobile App Development Like Shopify?
Let's find out what the costs of building your future Shopify app are, whether desktop or mobile, and what can affect the price.
Marketing
These mobile applications assist you to work with traffic and Search Engine Optimization, you can sell through new channels and promote their products & Business. In this way, you can increase sales and improve customer commitment to your online store.
Sales Channel
This enable-feature on Shopify applications will help you to expand your business, you can sell more products and increase revenue from each order.
Shipping Feature
The purpose is to optimize the delivery method, which makes it quick and easy for consumers.
Accounting & Inventory Manage
Those apps will help you to save orders, customers, and all-important business information, synchronize them with your favorite accounting software, and also allow you to spend less time working with your goods inventory.
Reporting & Insight Tools
Those things will organize your sales revenue data and conversion rates to help you make informed decisions for your business.
Shopify's e-commerce mobile application can control everything from marketing & Promotion to payments, including mobile payments, a secure shopping cart, and shipping. Whether you want to sell garments, jewels, or furniture, Shopify has everything you require to operate your e-commerce Online Store. Service customers and application documents offer support via email, phone, solutions for finding a boutique for a boutique and suitability for a Vine boutique and a promo-Votre boutique Facebook, Twitter etc.
Other Tech Stack which affect the cost to of Mobile App Development Like Shopify
Now if you even did not have an idea or a list of features shopify app, you can select the Industry and business model for your business with the help of mobile development companies. Generally, Every Mobile application development needs particular time and developers to make an e-commerce store application like Shopify. Now, we will discuss more technical part which will define the cost of mobile application development. To Develop a mobile application, we need to consider some major factor from technical term such as platform, type of app, developers, UI/UX, which will define the cost of e-commerce app development like Shopify. The more function you need to add, the more budget it will cost. I have added some major technical factor below.
Features
Latest released mobile apps are classier and user friendly. They can perform seraral task at a time which can be enable through latest technology like artificial intelligence, Machine learning, voice search, face recognition, Iot etc. These latest technologies will be expensive so if you have plan to develop your mobile application like Shopify more effective then you have to keep your budget higher.
Payment Gateway
Most of business owners are like to enable online payment method to collect payment for each order. So, if you have same plan for your business model then your mobile application development leads more amount to develop a mobile application for your business.
User Connection:
It allows user to connect to notification with current status of any placed order. It informs customer about the change status of active order (Order Date, delivery time, Delivery partner and delivery executive details, mode of payment etc.)
User Interface
To enable all feature on right place, you need perfect UI design such User screen, supported browser, where customer should not face any difficulties. It will be also a reason to increase the cost of mobile application development
Location accessibility
It will allow user to fetch the address. It will more useful for the Order Supply Chain.
Backend Code Development
To develop such amazing online store management mobile app like Shopify, you need to write enough code and strong backend tech support. It is possible when you are going involve latest tech solution and in your mobile app development. These all will take lot of time to research and figure out the right technology and expert developers to build an e-commerce mobile apps like Shopify which will cost more expensive.
Type & Application platform
Generally, you mobile should have on all platform but if you have limited budget then you can decide whether you want to develop your mobile application platform. Android platform will be higher than iOS platform due to more testing and coding. You can choose in first phase desired platform.
How to Find Best E-commerce Mobile Application Development
If you have decided to the making of shopify mobile application, and then your second important decision is to hire a best e-commerce mobile application development agency for your business. So, we want to brief you about our experience in mobile app development before you open next tab to find a best mobile app development agency. We are one of the top leading ecommerce mobile application development companies in India and other countries like Peru, Australia, USA, and UAE. We have helped so many business owners to bring their physical store into online store. Our developers are expert in mobile app development with latest emerging technology. Our Team can help to develop a perfect mobile application for your business which can manage your online store better and faster. After helping so many business owners in development field, we experienced that the avg cost of mobile app development like Shopify with above mention feature would be around $30,000 to$50,000. It can't be exact cost of ecommerce mobile app development like Shopify. It will be vary based on business requirement.
Conclusion
It is important that you decide for future use while app development. If you want to become a business owner like successful Shopify application then you can hire us as a best mobile application development agency to create a mobile application for you. To get free estimated cost you can visit our Contact us page or write an email at info@dxminds.com