October 12, 2022
Posted by:

Admin

Category:

Artificial Intelligence, Famous App Analysis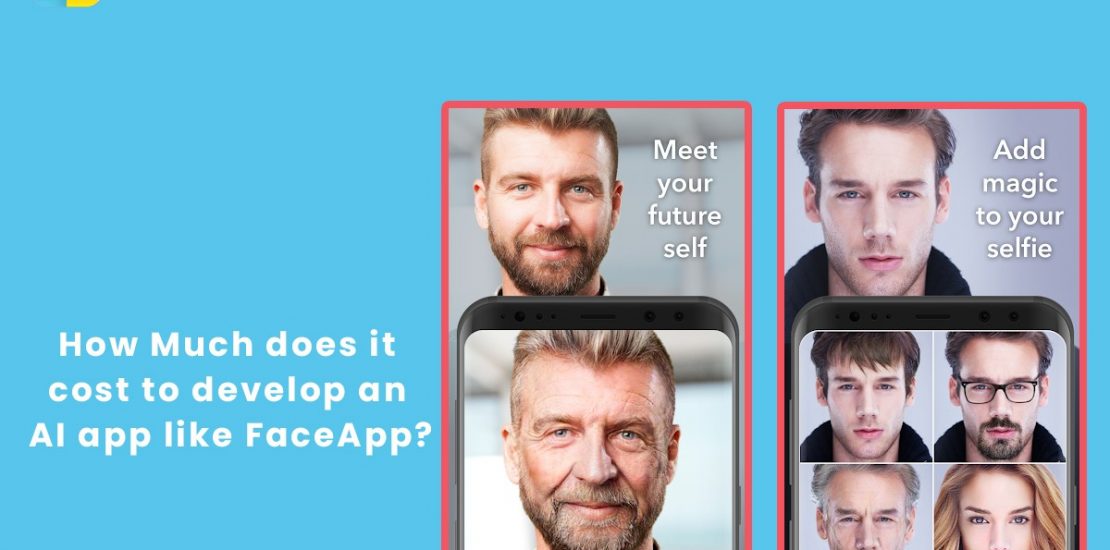 COST OF DEVELOPING AN AI APP LIKE FACE APP
A stand-alone from all the random face editing apps… Probably the very first AI-enabled editing app… Drifting in each nook and corner, an application circulated around the web like wildfire. That is FACE APP for you.
This blog is an exclusively designed platform to examine the various characteristics, aspects and development cost of an app like FACE APP.
So let's get started!
The app was developed by a Russian company called Wireless Labs, owned by Mr.Yaroslav Goncharov. In spite of the fact that the application was there in the market from 2017, it went viral a couple of days back soon after it had a take-off with a celebrity FACE APP age challenge that happened on social media. Several FACE APP challenges were succeeded and the rest is history!
HOW DOES FACE APP WORKS?
The very first screen that appears right after opening the FACE APP let the users choose the image they want to edit. Images can be imported straight from facebook collections or from the phone albums. One more choice is available where the users can make use of the images of their favorite celebrities.
Once the user selects and proceeds with an image, it's been sent to the application server for further procedures. The app uses AWS and Google Cloud as its servers. Users can use various filters that have been available in the app. using the filters, users can
Insert a grin effect on images
Perceive what one looks like in his/her old age
Create images that make old look young
Change Hair Style, Skin Tone, and Eye color
Gender Transformation etc.
FACE APP makes use of Artificial Intelligence and Neural Face Transformation for face detection and filter integration. The results are that the post-produced images look stunning, astonishing and outstanding. The images thus edited can be either downloaded or shared via Social Media.
Some features of the app are of the premium version. That is, you have to pay for using the filter. A premium user can avail images without watermarks. The premium version of the app is advertisement free and comes up with an option of editing particular faces in group images. Even the app features quick and unique processing server for its premium users.
FACE APP makes fun out of images by creating pretty amazing outcomes. A user can forsee his old age image, gender swap image and much more features can be made in to existence by making use of FACE APP.
ARTIFICIAL INTELLIGENCE AND NEURAL FACE TRANSFORMATION
Up until now, there are several face-swapping mobile apps available in the market. What makes FACE APP stand apart from them is the technology they used. They made use of Artificial Intelligence and Neural Face Transformation to bring out the best in an image. Artificial Intelligence helps in detecting the face while Neural Face Transformation enhances facial features such as skin tone, shade, hairstyle, etc.
HOW MUCH DOES IT COST TO DEVELOP AN AI APP LIKE FACE APP?
Developing an AI app as FACE APP is tedious and requires quality time for research and development. Though the app development cost may vary depending upon the development company, the approximate cost will be around USD 50K to USD 100K. The price can again vary depending upon the features that are getting integrated into the app.
The leading AI mobile app development company in Delhi, DxMinds Innovation Labs is the best choice when it comes to developing an AI face editor app like FACE APP. This result-driven app development company has got demonstrated track records in creating successful mobile apps that are pretty much scalable and reliable. The app developed at DxMinds possesses international quality and satisfies various parameters.
For more inquiries regarding the development cost of an AI app like FACE APP, write to:
inquiry@dxminds.com