How much does it cost to develop a mobile app like a Wedding Planner?
Want to develop wedding planner app and to know the cost to develop wedding planner app then you are right place.
Every individual has his/ her dreams about how their wedding should look like. An individual, he/ she finds it hard to manage all the pre and post-wedding activities such as selection to designing and printing invitation cards, purchase of jewelry, outfits and accessories, photography, decorations, etc. To get rid of all the tensions involved in the process and to make their dream come true, a major chunk of customers depends upon event management agencies and other consultants. Wedding is a major business in India and other countries across the globe and millions and billions are pumped into it annually. A large number of event management agencies have been set up across various verticals offering high-end services to the end customers.
The main reason why wedding parties outsource the entire wedding activities to other agencies is because these agencies are highly professional at carrying out each activity with maximum attention to each detail and it will take off all the tensions from the customer side. Event management agencies try their level best to deliver pleasing services to their clients, though they have to face a lot of hurdles while serving them. The processes involved in the event
The advent of mobile applications has turned out to be a boon for event management agencies and vendors working in the same domain. Right after its integration, mobile apps are creating wonders across several of its verticals. Event management agencies are now capable of scaling like anything by eliminating all the hassles and bustles that backed them from being successful. Event management companies are aggressively integrating mobile apps into their frameworks to automate their entire operations. They are actively looking forward to hiring wedding planner mobile app development companies. Also, there is a rising demand for the answer to the question, how much does it cost to develop a wedding planner mobile app?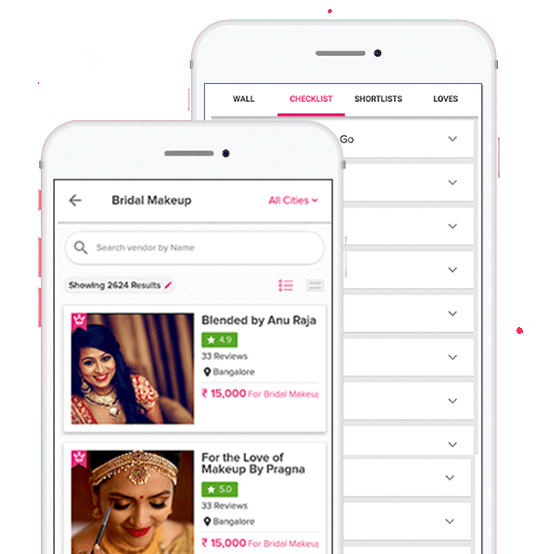 How Does it Work
Working model of wedding planner mobile app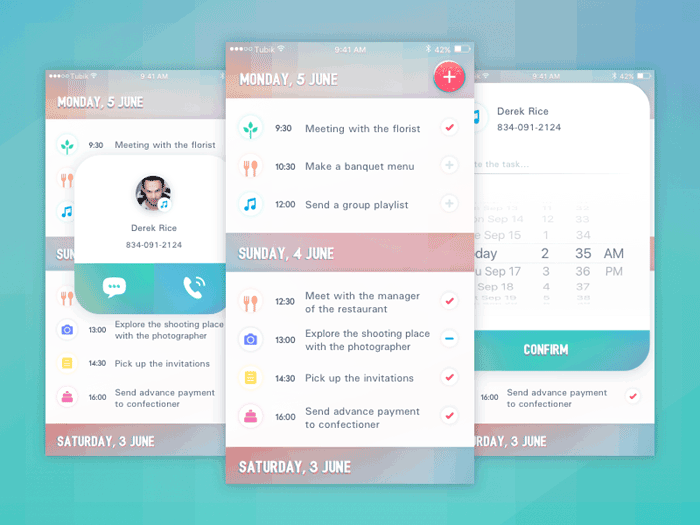 The working model of a wedding planner mobile app is quite simple. It will allow its users to stay on top of the entire wedding activities, thereby taking it to the next level. All a user needs to have is a wedding planner mobile app for making his wedding a grant one. It allows them enhanced planning features that too in a flawless manner. Users can set various tasks leveraging the wedding planner app and the app will be constantly reminding them about the same. Right from photography to wedding hall and menu planning, a lot of facilities are put forward by the wedding planner mobile application to assist the users. It clearly acts in such a way that it helps the clients take away all those unwanted stuff that existed in between. It opens the doors of enormous possibilities for the users to make their wedding day a memorable one. Also, it helps users in connecting with the vendors and follows up on various of their activities in the best way possible.
Features of a wedding planner Mobile app
Unique and must-have features of a wedding planner mobile app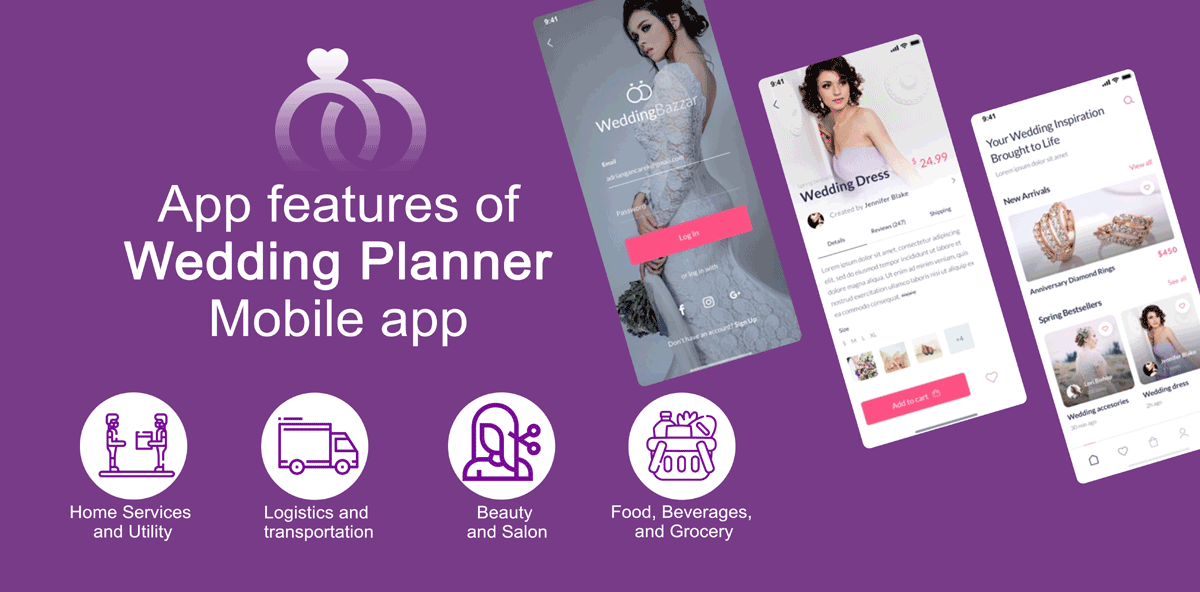 App Features
Customer App Features
Vendor app details
Admin App Features
App Features
Attractive UI/UX
The best wedding planner app will have an attractive user interface and offer the best experience to its users. All the design elements in the app should possess high quality and should be explained in detail. Also, the designs should be attractive, eye-candy, and has to be appealing to the customers. When it comes to determining the success of a wedding planner app, the very first thing the customer looks for is how good the app looks. So no compromise has to be done in the user interface and user experience side of a wedding planner app. He who is looking for the cost to develop a wedding planner mobile app should consider delivering the best UI/UX to the customers.
Wide variety of services
A wedding is a cluster of activities that takes place before and after the function. There involves numerous coordination exists in between and a proper association is required for its a successful takeoff. For a user to download a wedding planner mobile app, it should cover all the features that allow the user to stay on top of the entire activities such as wedding hall booking, stage decorations, illuminations, outfit selection, transportation arrangements, meal planning and much more. The app management should make sure that they never miss out on any of the activities that they can help users get throughout the entire process.
Regular reminders
The working of the app should be in such a way that it should never allow its users to miss out on any of the marriage activities as it will affect the entire function. To overcome this, the app has to have features that remind the users very often so that they will never miss out on any of them. As the marriage date gets nearer, everyone will be in a rush and reminders can help them overcome the confusion.
Enhanced Payment integration
The app should have seamless payment gateways for the users to make a safe and secure mode of cash transactions to the vendors. It will also help them in eliminating all the tensions and confusions that takes place while transferring the funds, as they will be provided the entire history of their financial dealings with particular vendors.
To DO List
A To-Do list integrated to the wedding planner mobile app will allow the users to create random tasks that get associated with their marriage functions. Marriage functions get variations based on casts and religion and the to-do list help users to list out the tasks that they can cut off after it gets done.
Customer App Features
Vendor app details
Admin App Features
Our on-demand app development services
Being the fastest growing digital transformation and mobile app development company having a clear track record of developing and delivering innovative and futuristic solutions, we help our customers meet their requirements by delivering on-demand app development services. These on-demand services are capable of meeting global standards and parameters that can add more mileage to your journey toward achieving organizational goals.
Food, Beverages and Grocery
We deliver the best on-demand app development services for the food, beverages, and grocery industry that makes you fit for the competition and to outpace your competitors. We have got in-depth experience developing best-in-class solutions for the industry and we are the best mobile app developers for food, beverages, and grocery industry.
Home Services and Utility
The precise apps and solutions we develop for the home services and utility industry have helped us in being the industry leaders. Customer success is our utmost goal and our team of experts work towards achieving it.
Logistics and Transportation
Apps we deliver for the logistics and transportation industry help you scale your logistics industry like anything. We offer a multitude of services that make the industry automation possible in a seamless manner.
Build your own emporium in the beauty and salon industry leveraging the mobile app we built. It's highly disruptive and customizable that can help you overcome all the struggles you face while running the business in a conventional manner.
• Masters of technologies
We believe in innovation and thrive hard to stick on to the various applications and use cases of it.
• Highly professional team members
Team DxMinds comprise of highly talented individuals who have got clear hands-on experience developing finely blended technology solutions.
• Unmatched services
Availing the best services can take you far ahead and you can never find a vendor who delivers quality services the way we deliver.
Cost analysis of Wedding Planner App
The platforms for which you need to develop the app plays a major role in determining the cost of the mobile app.
Numerous sets of technologies are available in the market that can be integrated into the app based on the requirement. It can determine the app development cost.
Application Development Team
The cost of developing the app depends on the number of project persons gets assigned to complete the project.
2 — Requirement analyst.
1–2 Web developers.
2 — QA engineers.
2 — Android application developers
2 — IOS application developers
1–2 UI/UX designers
The cost of developing a wedding planner mobile app ranges from USD 10,000 to USD 50,000. Variations in the costing are bounded to the requirements and integrations of the mobile app. DxMinds, the leading digital transformation, and wedding planner mobile app development company help you build a full-fledged mobile app that helps you take your business to the next level.
Frequently Asked Questions
DxMinds is a leading wedding planner mobile app development agency that constitutes of highly talented professionals and project personals.
Of course. A full-fledged marriage planner mobile app can help you build your own emporium as far as things are concerned.
It will take around five to six months to come up with a perfect marriage planner mobile app. However, the price may vary based on the requirements