October 10, 2022
Posted by:

Admin

Category:

Famous App Analysis, Mobile App Development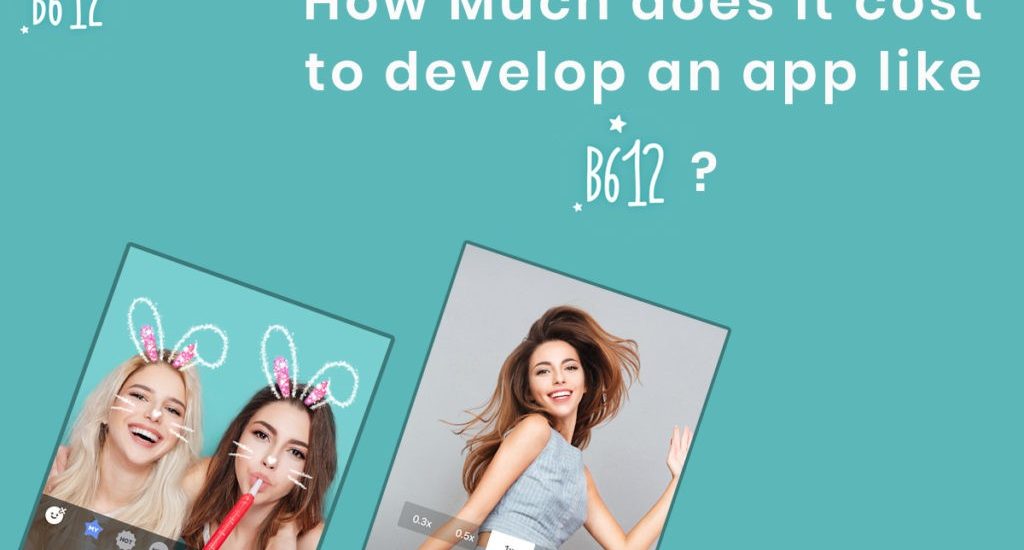 How Much does an app like B612 Cost?
Peoples are living and surviving in the world with the most advanced technologies that help to make better with functions to live comfortable. However, peoples are favoring to buy things from the comfort place of living instead of visiting a physical store.
Mobile app technology arrived with many benefits for customers, where companies are ready to provide push notifications, offers, deals, and special discounts through mobile apps. The customer can directly interact with companies regarding business products and services with the help of mobile apps.
While coming to the appearance of peoples there is a conceal of imperfection with mobile apps, as it enhances the visual appearance of people faces. In modern times, companies introduced millions of innovative apps for taking selfies that can include photos, videos and with more than 78 filters advanced features within fingertips.
One of the camera apps become famous nowadays is B612, as it arrived with dynamic features for selfie lovers. With the help of B612, mobile app users can capture their photos via this camera instead of their phone camera.B612 selfie app was introduced by SNOW, Inc developed for both Android and iOS platforms. These B612 mobile apps enable users to take the hottest selfies in various poses with multiple advanced filters.
Users can utilize multiple exciting filters and can select photos with excellent stickers to include in pictures. The selfie app B612 allows users to save the preferred images to your camera roll and can share the images through social media sharing apps.
How much does it cost to develop a camera app like b612?
Business peoples are looking to develop a mobile app like B612 to attract an audience and to earn money from it. They are looking to know the cost of development of a mobile app like B612.So How much does it cost to develop a mobile app like B612?
This is the critical and hot question trending in the social media platforms: How much does it cost to develop a mobile app like B612?
There is no exact answer to this question, where a lot of elements matter that brings close to create the mobile app like B612. There are many factors and circumstances that effect on cost estimation while developing a mobile app any business in general.
Factors that Decide App Development Cost like b612
There is no specific statement to the question "how much does it cost to develop an app like b612?" because the cost depends on multiple factors. These factors are listed below:
Mobile App Platform (Android, iOS)
The development cost of an app like b612 varies on the type of platform chosen. The main factor that estimates based on the requirement of the mobile app for Android or iOS platform.
Android and iOS platforms are diverse in times of market division, a kind of devices and OS platforms, and in times of their technological development.
How much does it cost to build an app for iOS or Android-like b612? If you want to create an app for the android app only, the cost will be less expensive compared to iOS. The cost development of an app like b612 for iOS platform charges more due to the multiple testing processes. However, if you choose to develop a mobile app for both platforms it charges more money.
The app development cost like b612 varies on the location of mobile app development companies this is a major impact on cost. The cost of the development process of the app varies on market share, taxes applied based on location preferred. So, how much does it cost to build an app as b612 varies on location wise?
Mobile app development cost in India usually charges less compared to other countries, hence the app like b612 costs approx $35000 to $50,000 will offer reasonable cost benefits.
The complexity of App Features
The app like b612 comes with complex features that take more to build and cost more for the time taken. It shows a simple project of app development requires fewer budgets and for complex apps will be more expensive. So the cost of development app like b612 varies on the complexity of the app.
Advanced Features Involved
The advance features integrate into the mobile app like b612 comes with more cost, where each features functions for desire objective to fulfill the need of the user.
Some features are easy to implement and some app features take more time, efforts and need expertise. so, therefore, the mobile app will be more expensive.
Including the above factors, there are other factors that effect in estimating the cost of development of an app like b612. For instance, the agile methodology plays a major role that will help to develop mobile app responsive and high-quality.
Cost of App Development like b612 in DxMinds Technologies
The mobile app development solutions are the most innovative things comes for app creation and cost depends on app features and latest technologies integration in it. There are many factors comes when creating an app for various industry. How much does it cost to develop a mobile app like b612?is a complicated question due to every app comes with the various budget for various business objectives. However we are one of the leading mobile app development company in Bangalore will provide high-level mobility solutions that enhance brand visibility, reach more audience and drive more sales to your business.
At DxMinds Technologies, we provide result-oriented services that valve your business. We care about our customers about their success in adopting mobile apps and implement all the latest tools and technologies.
If you are looking for a top mobile app development company in India, USA, and UAE location, then DxMinds is the one of the top app development company and will provide detail budget quotation and ready to guide you in all aspects of app development.
Contact us today! To get a free quote instantly