October 11, 2022
Posted by:

Admin

Category:

Famous App Analysis, Mobile App Development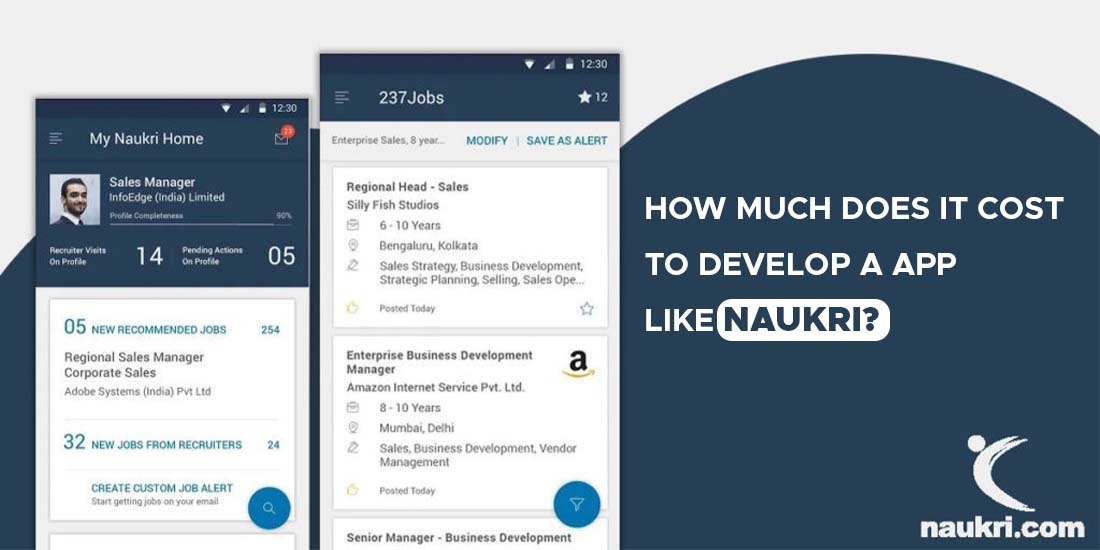 Advanced technologies have become a significant part of human lives impacting them personally and professionally. Mobile app technology arrived with innovations that help job seekers get their dream job through a mobile app. There is a rise in the evolution of job-seeking apps, playing a major role and supporting students and experienced professionals to hunt the preferred job based on their qualifications and experience in the desired field.
There are lakhs of students coming out of college after completing their bachelor's degrees and courses and willing to hunt for jobs, as the searching job becomes a stressful barrier in human lives. Job portal mobile apps provide various advantages to job seekers such as resume updating and can connect with recruiters and review the company and can able to contact the company hr, etc.
The apps like Naukri, and Indeed provide services to search for jobs based on a category of locations, qualifications, and salary wise. Users can set the filters that help to get the available jobs on full-time, part-time, and internship terms.
The Naukri app is one of the largest job portal firms and becomes famous in India for job seekers. The company was established by Mr.Sanjeev Bikhchandani in March 1997 headquarters in Noida. The Naukri app was operated with more than 2000 employees and more than 50 branches all over India and overseas. This has led to increasing the demand for job portal apps like Naukri which has entirely transformed that many entrepreneurs are looking to develop job portal apps like Naukri.
Most people want to know the exact cost of job portal app development like Naukri. To help the audience who are looking to know the cost of app development like Naukri DxMinds Technologies arrived to guide them in the right direction.
How Much Does it cost to develop a mobile app like Naukri? estimating the cost of a development app like Naukri comes with many factors and circumstances. Such a job portal app like Naukri
Essential Features of the Naukri App
Easy Registration: Users can signup with the help of a social network or personal email account with simple clicks.
Job Search: The mobile app enables users to search for jobs at the required companies that perfectly match their qualifications and experience and field of expertise.
Resume Preparation: Users can create a resume by applying advanced tools and features, allowing them to create various resume formats, and samples help them write customized.
Applying for Job: Mobile Apps like Naukri allows user to transfer resumes to their preferred companies that match their requirements and options.
Push Notification: Users receive alerts from the companies as soon as possible from recruiters if everything is satisfied. This feature helps users to get notified for the further interview process.
Job Posting: A recruiter can post jobs to fulfill their vacancy in the company, as the posing is done based on the required skills, abilities, and qualifications desired on the job portal app.
Hiring: An app like Naukri allows the recruiter to choose the applicants in the job portal applications based on their requirements and concerns to fill the vacancies.
Are you looking to know the exact cost details about app development costs like Naukri? Send us the requirements to get a free quote
How Much Does it cost to develop a job portal app like Naukri?
After a complete brief about the job portal app development process and features, as still there are many factors to be considered to determine the cost of app development like Naukri such as type of interface, data storage, app size, app features, app developer and company location, and many more.
DxMinds Technologies a leading mobile app development company in Bangalore, Mumbai, and Major cities in India have years of experience in developing apps like Naukri. We hold expert app developers and proficient app creators including expert UI/UX developers to create successful apps for various businesses.
The average cost of app development like Naukri ranges from $5000 to $52000 and there may be extra benefits for advanced features like artificial intelligence, blockchain, and IoT solutions.
So, if you are looking to develop a powerful job portal app development like Naukri,  then contact DxMinds a leading app development company and digital transformation firm focused highly on effective and quality work.
Send us requirements to info@dxminds.com to get a free quote