November 4, 2022
Posted by:

Admin

Category:

Restaurant Industry, Technology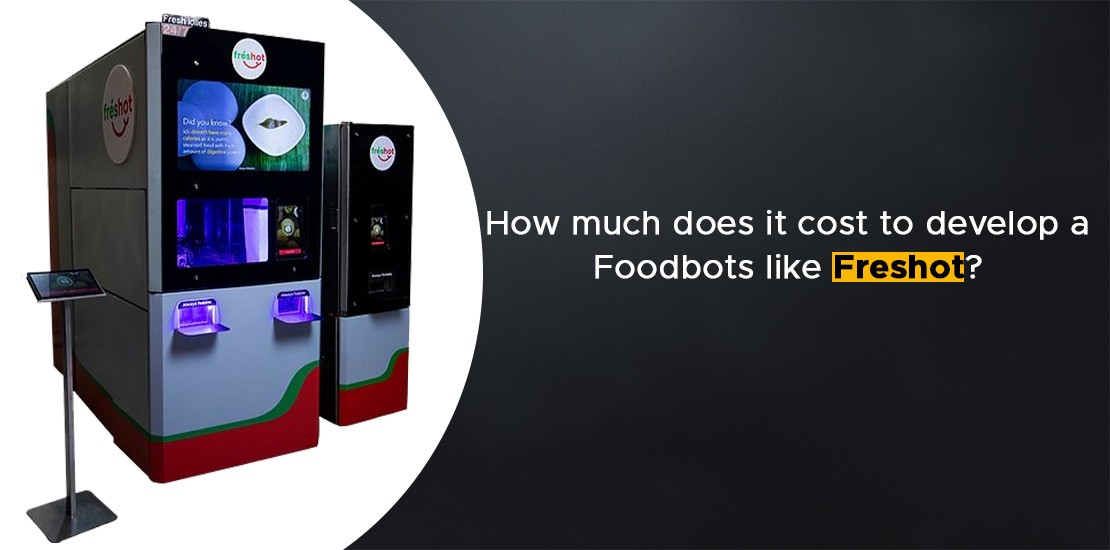 No doubt technology has surprised us in many different ways for years, but this time it has arrived with a remarkable concept in the food industry that has stunned every other person's mind.
Let's say you suddenly develop a craving for idlis while you're out in the city, but there aren't any South Indian restaurants open around the clock. Idli batter may be available in packets, but what about cooking it?
And there comes an innovative idea. Sharan Hiremath, a Bengaluru native, has just invented a robot to satisfy our cravings for fluffy, steaming idli. Unbelievable right?
Bangalore folks call it by different names such as "idlibot" or " idliAtm"
The automated idli-making machine is installed at Freshot that produces and serves 72 idlis with sides like podi and chutney in just 12 minutes, 24 hours a day.
The concept was immediately embraced by the Internet, and comments poured in from all over the country about its incredible concept.
Never imagined that technology could be applied in such a wonderful way.
By getting admired by this beautiful, fast, and tech-based food-making approach many curious visionaries have shown up to Foodbot development companies in Bangalore to make a robotic-based food bot like Freshot.
To empower you to get a clear idea about Freshot, its cost, and its technology we being the best Foodbot developers in Bangalore have occurred with a blog that discloses every aspect of Freshot.
About Freshot
Freshot Robotics, a start-up based in Bengaluru, has built fully automated cooking and vending bots that fervently refer to as Food bots. They have submitted numerous patent applications, and one has already been approved for ACVM concept.
They are introducing the Foodbot-powered Express Cafes, which prepare, package, and serve the ubiquitous Idli, a staple of south Indian breakfasts, along with other dishes like Vada, Chutney, Sambar, etc.
Foodbot is the first fully automated cooking and vending bot for delicacies from South India. Completely contactless and built with the power of the cloud, IoT, and AI, food bots offer a seamless experience.
It all started in 2016 when Sharan's ill five-year-old daughter had a craving for idlis. When he was unable to give her the dish at the time, he found an exclusive solution. Three years later, he established Freshot Robotics and created an idli robot, which he claims can make 72 idlis in just 12 minutes.
He always believed that the food industry's future will be fully automated. This incident served as the final impetus for him to take action. The younger generation is unfamiliar with cooking and has little time to learn. As an alternative, he discovered food robots.
Key Features of Foodbot
Cooks, packs, dispenses, and maintains oneself
Cooking, packing, dispensing, and cleaning are all completely automated by the Foodbot without human intervention
24/7 operation
Can simultaneously prepare four different Idlis.
In addition to making plain idlis, idlibots can also make idlis made of millet, carrots, or spinach.
A Vada dispenser is incorporated into our Idli bot.
Working of Foodbot/Idli ATM
The process is simple. Scan the QR code near the ATM, place your order, and pay. Allow the ATM to scan the resulting code on your mobile device, and the food will be ready hot and packed in less than a minute.
The Machine automatically loads the batter, Dispense to hopper, dispense to idli plates, followed by steam cooking, transfer to the packaging box and finally seal and dispense 
Technology to Integrate to Build a Foodbot like Freshot
Cloud technology
Cloud-based platforms use the internet and wireless connections to send data to big, reliable servers for processing before sending the results (outputs or instructions) back to the system or device on the ground. For businesses that cannot afford the high initial costs and ongoing maintenance of physical servers, cloud computing provides access to enormous amounts of data processing capacity and storage space.
Cloud computing has given the food industry the ability to analyze data to determine market sizes, consumer habits, improved product strategies, consumer targeting, and marketing. 
This innovation helps food companies reach larger markets for a lot less money, especially when combined with e-commerce and artificial intelligence (AI) technologies.
IoT
The ability of IoTs to track and predict machinery maintenance makes them useful in this stage of the food manufacturing process. Because it avoids unexpected downtimes or interruptions, this saves time and money. It also ensures that machines are maintained proactively rather than reactively, resulting in increased overall equipment efficiency (OEE).
Manufacturers can improve regulatory processes and product quality by monitoring the temperatures, flow rates, and distributions of ingredients during the manufacturing process with the help of smart valves and actuators. This technology is especially useful for manufacturing plants that have multiple product lines and must perform seamless, resource-efficient changeovers.
Downtime must be avoided whenever possible when it comes to packaging. This can be especially difficult for food manufacturers who source their packaging from third parties and incorporate it into their IoT production plans.
It is not uncommon for products or packaging to be damaged during the delivery process. IoT sensors can detect everything from degradation to damage, allowing manufacturers to develop preventative measures in the future. Similarly, data points can be used to assess and optimize production line times, which can have a direct impact on a company's ability to fulfill orders and meet tight delivery deadlines.
Artificial Intelligence and Robotics
The solution to the rising food demand may lie in autonomous food production. This process includes a number of steps that are typically carried out in a production facility, such as packing and safety training. Robots are capable of cleaning and classifying various types of food.
The components of a packaged meal, such as frozen meals, can then be put together using robotics in the food processing industry. Workers can meet market demands thanks to quick and efficient robotic packaging solutions.
Furthermore, the food can be organized in boxes by these robotic systems for later shipping and storage. Robotic operations would improve the efficiency of a store's operations, and moving robots could speed up the process of retrieving items and managing a store's inventory. The food industry's packaging process offers a unique opportunity to reduce waste by using robots, in addition to being efficient.
In the food industry, robots are capable of cooking. Robots are already being used in restaurants to prepare and cook food. In many restaurants, robots are used to assemble the entire dish, including cutting, roasting, and garnishing the food. The highest demand for robotic cooks may currently be in small or large facilities, which are frequently staffed by low-paid workers in the food industry.
Factors to consider while making the Foodbot like Freshot product
Competition
Entrepreneurs who are planning to build an `Ai based Foodbot like product can face the biggest challenge from the already crowded market.
Businesses that are industry leaders in their specific fields have already been attracted by such a beautiful concept
In a situation like this, you will need to provide something that the other players don't, both in terms of features, innovation, and automation.
. In addition to focusing on providing better offerings in terms of automated food delivery , you and your food bot app development company will need to come up with new strategies to draw in the audience attendance 
Out-of-the-box concept 
You can't completely replicate the concept of Freshot because people will fall for the product that is unique, burden their work, and is easily accessible. Thus, you need to brainstorm with your target audience, the food app Development Company that you are going to hire then you can finalize your idea.
Selecting MVP Features
Selecting which MVP features to include in the application and which to omit is another challenging problem that your Foobot app development company associate will be able to resolve. 
A significant factor in determining how much it will cost to develop food bot like Freshot app is the MVP. 
Since you are just getting started, it is crucial that you test the waters before diving in headfirst, and the only way to do that with the least amount of expense and effort is through an MVP.
You will be assisted by your partnered agency in creating an MVP that will help you raise money for your company.
Tracking Down a Reputable App Development Partner
It can be challenging to find a food bot development company in Bangalore that can turn your concept into a fully operational app business; there are a lot of questions you should ask before working with an AI and robotic product development company. Finding the right team to make your dream a reality can take some time, but it will help you navigate the competitive on-demand food tech market.
The time has come to look into the cost after all is said and done. What will the cost of developing a food bot like Freshot 
How Much Does it Cost to develop IoT based Foobot like Freshot?
The cost of building a high-tech food bot like Freshot product is influenced by a number of variables, such as the product's complexity, the project's concept, the project's technical complexity (such as backend development, technology to integrate, third-party integrations, and payment gateway integrations, if necessary), and the hourly rate of the foodbot developers
Additional factors that influence the Freshot like product are as follows
Hardware
Infrastructure- Network, Middleware, and cloud-based infrastructure 
Application-Simple, Mediocre and complex
Roughly the cost to build a food bot like Freshot product can fall somewhere between $50k-$100k by considering the aspects like food bot infrastructure, hardware, new-age technologies, and other things.
How can DxMinds enable you to unlock the potential of intelligent AI, Cloud, IoT, and robotics in the Food Industry?
A massive transition is currently taking place in the food industry automation and manufacturing industries. Robotics, Artificial Intelligence, and Machine Learning technologies have all contributed to the food industry's meteoric rise.
Our software development team understands that with AI, cloud, and ML, everything comes back to data. As an AI and IoT software development company in Bangalore, we create cutting-edge solutions to assist in identifying important data from vast volumes of structured and unstructured data generated by your company in a variety of formats.
We enable you in data analysis so that you can identify trends of growth and decrease. DxMinds can help you automate and advance your business by providing innovative artificial intelligence and machine learning solutions
Our specialists are eager to work with you to implement your automation idea. Immediately share your idea with our experts!
FAQ's
What does robotics mean for the food industry?
The term "robotics" is defined as "the technology concerned with the development, manufacture, and use of robots in automation." Robotics are used in the primary packaging stage of the food production line, which is when food is placed into its wrapper, container, or vacuum-sealed bag.
How has AI changed the food industry?
For many industries, artificial intelligence and machine learning technologies offer numerous opportunities for process automation, process improvement, cost reduction, and human error reduction. In the food industry, automation has numerous advantages.
AI and ML have greatly benefited eateries, restaurants, and diners, as well as food processing, by speeding up the supply chain process and improving food delivery services, among other things.
What role do robots play in the kitchen?
Industrial robots are increasingly being used to improve hygienic standards, save time, and free up space. Robots are widely used in the kitchen for everything from chopping and slicing to the final presentation of the dish. It is also frequently used in filtering, selecting, and arranging items into boxes, as well as labeling and distributing food.
How are robots used in food production?
Currently, the most common applications for food-handling robotics are packaging and stacking. Food robots are used in primary packaging, where food is placed into packaging, cartons, or vacuum-sealed pouches. Another popular technique is to use robots for secondary packing.