October 11, 2022
Posted by:

Admin

Category:

Famous App Analysis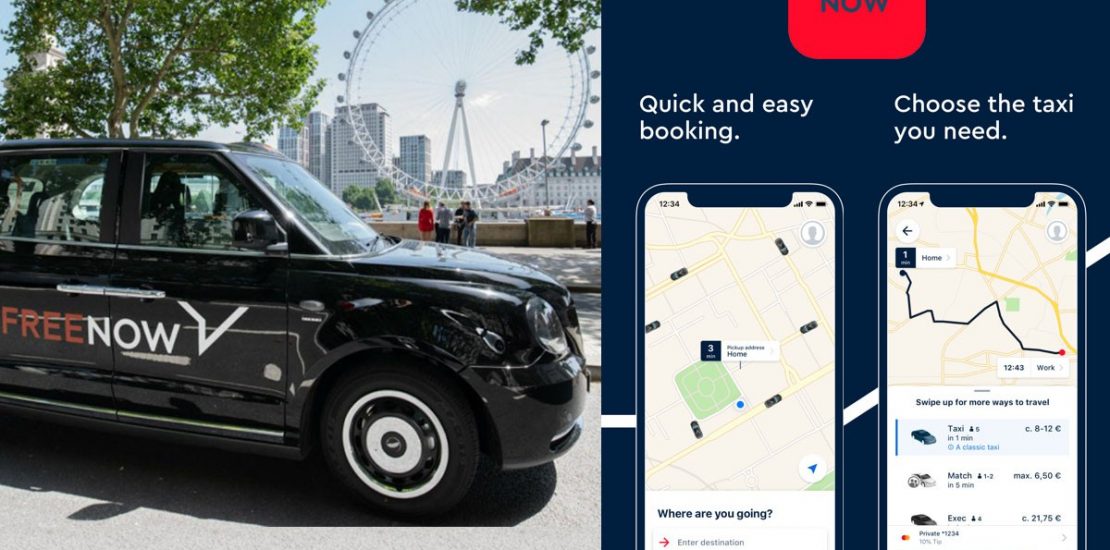 How Much Does it Cost You to Develop a Taxi Booking App Like Free Now
Online taxi booking has been a million dollar business idea ever since its execution and as the execution has gone beyond borders. It has helped entrepreneurs in generating high revenue by addressing to a high potential problem faced by the majority. The on-demand taxi booking after the introduction of mobile apps took a sudden elevate and it is still trending. Entrepreneurs across the globe are searching for mobile app development companies to develop a high-end taxi-hailing app to dig out their fortune.
Proper transportation with in a country is ones right. Technology has always offered with us its best and things are nothing different when in commuting. With the invention of smartphones and its related apps, the mode of transportation was made more accessible and hassle free. Gone are those days one need to hail taxi from a taxi stand or amid the highway.
This blog is all about the taxi-booking app, Free now, which is a trendsetter in its segment and we deal with the cost of developing an app like Free Now (mytaxi) as well.
So let's get started
What Does FreeNow, the taxi booking mobile app do?
Free now, is an end to end solution that connects riders and drivers leaving hassle free experience for both the parties? As of now, Free Now is delivering its high end services in 100 cities across 10 European countries like Ireland, Germany, United Kingdom, Austria, Poland, Italy, Portugal, Spain, Sweden and Romania. Free Now offers the best comfortable ways for a rider to reach his destination anywhere within area of service. It's the most convenient and quickest way of booking your ride in the aforementioned European nations. The drivers registered with the app enhance the safety of its fellow passengers. It helps you book your convenient ride any time of the day at affordable costs. They provide its users with a handful of highly flexible opportunities. Users can easily book their mode of travel based on the various features offered by the app.
Various features of the online taxing booking mobile app Free now (mytaxi)
While mobile is an acting platform for these busineses, one need to come up with a high end mobile app to meet his customer requirements. For this purpose an app need to be enhanced with several outstanding features. Let us have a look at the features possessed by a taxi booking app like Free now, Taxify, Cabify, and Gett App.
User Registration
User need to submit their personal details and other mandatory fields to register an account with Free Now.
User Profile
Personal details of a user such as his username, email id and other contact details can be accessed here. Relevant changes to these data can also be made under this category using the edit option.
Location Access
For the easy commutation, a user needs the app the permission to access his/ her location. While booking the taxi, they have to provide their pickup and drop locations in the map provided along with the app.
Different vehicles for different purposes
User can choose the vehicles of their kind based on their requirement and passenger capacity. The available variants based on the customer capacity are namely Taxi, Match and Executive. Fare for each variants also differ based on the mode of ride.
Book Now
Once a user has confirmed his location, and has chosen his mode of ride, he can go for confirming the ride. All he have to do is just click in the order taxi now option.
Ride Cancellation
A user can cancel his ride anytime after booking, Cancellation of rides are subjected to cancellation policy, Chances are there that the app may charge a small amount of cancellation fee from your end to compensate the taxi driver.
Driver Tracking Facility
Location and arrival of the taxi driver can be accessed online via app dashboard, which will make user free from the boredom of waiting his/ her cab to arrive.
Your rides
Under this segment, a user can have access to all of his present and past rides. The rides including the rides he have cancelled. This help them in being aware of their rides.
Book for anytime of the day in advance
The app ensures it users the facility to book cab for any time of the day. All a user have to do is just provide his scheduled departure time and date and its all set.
Payments
Users can leverage the in app wallet integrated to the app or they can even go for cash or card payment, It all depends on their mood.
Refer and Earn
The app let its users to earn more loyality points by referring their friends and family to use the app. These points can be redeemed on their future rides.
What make FreeNow one of the best online taxi booking app
The app offers its users hassle-free ways of booking online ride and it is highly flexible and convenient. The attractive User Interface and awesome User experience offered by the mobile application made Free now a leading online taxi aggregator app in the Europe. The app offers various discounts and cashbacks to its users.
How much will it cost to develop an online taxi booking app like Free now
While the cost to development an app like FreeNow (mytaxi) depends on various features like app size, app integrations, third party add ons, technologies used, app locations and various other factors, an app with the basic features will cost you around USD 10,000 to USD 50,000.
Best Mobile app Development Company to develop a taxi booking app like Free now
There are several mobile app development companies out there offering various app development services. But DxMinds Innovation Labs, the leading mobile app developer having wide spread branches across the globe helps you in developing a taxi booking app like Free now, Taxify, Cabify, Gett and much more like app at the least possible cost with the latest technologies integrated to it. Hire DxMinds to skyrocket develop a high-end taxi booking app from the scratch.
For a free consultation on taxi booking app and for various other trade enquiries Write to us: info@dxminds.com