April 13, 2020
Posted by:

Admin

Category:

Famous App Analysis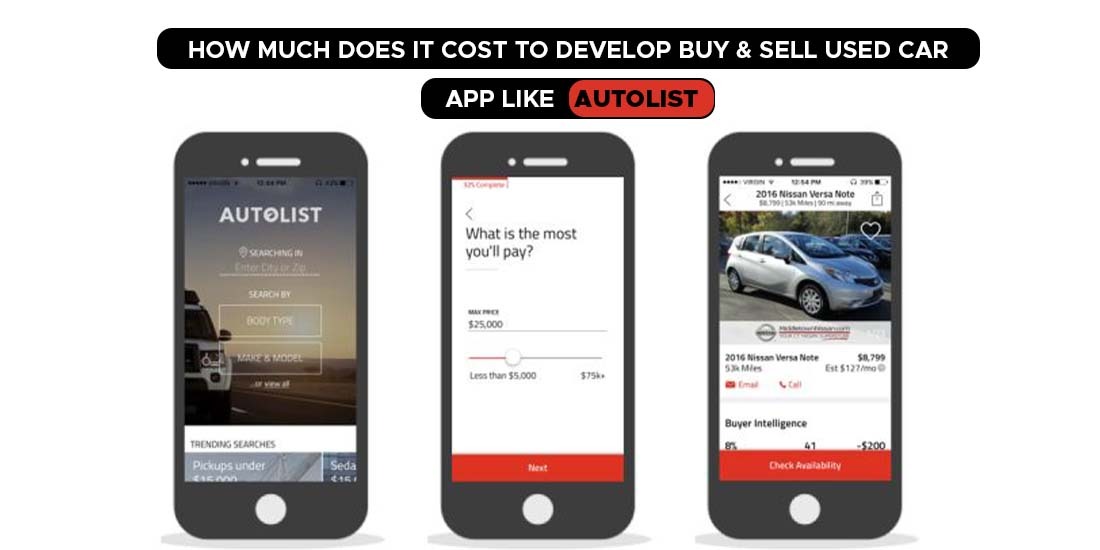 How much does it cost to develop Buy & Sell Used Car App like Autolist
Mobile applications are transforming or live as a whole. The impact it is having on our lives are much more than we imagined that a life without mobile application can't even be imagined. They are taking our lives to the next level making use of technology. Mobile applications hold a high degree of transformation factor that helps both businesses and their customers.
The second-hand vehicle market holds huge potential as the number of customers who need to buy and sell used cars are growing exponentially. Mobile applications have to do a lot in this segment as it streamlines the entire operations. In this article, we are going to see one such business, which has made the best use of mobile applications for its operations, sales and revenue generation. The app is named to be Autolist and it is one of the fastest-growing used vehicle market places. We will also discuss in detail about the cost of developing a used car mobile application like Autolist.
Get Free Quote
More about used car buying and selling mobile application like Autolist
Autolist is a US-based second-hand car buying and selling platform. Autolist mobile application acts as an intermediate platform that connects both buyers and sellers by offering a hassle-free experience for both the parties in the best way possible. The application has got a wide range of vehicles listed on it, which makes it easy for the customer to find the vehicles of their kind. The company has won several awards including "The Top 10 car-buying apps of 2019 by The Street and 2018 by CNET. The company operates across various cities like Albany, Atlanta, Austin, Bakersfield, Columbus, Denver, Fort Wayne, Fresno, Hartford, Houston, Las Vegas, Memphis, Miami, New York, Phoenix, Raleigh, Sacramento, Springfield, Tampa, etc. The app showcases a wide range of vehicles varying from Sedans, Coupes, Wagons, convertibles, Trucks, SUVs, Minivans, crossovers, luxury, CPO, sports and hybrids. The app is trending in its space that a lot of entrepreneurs are actively looking towards the cost of developing a mobile application like Autolist.
Need for a second-hand car buying and selling market place like Autolist
Conventional ways of buying and selling used cars were tedious that it always remained as an unorganized sector. A lot of efforts were involved in the process that it demanded a lot of manual efforts. Mobile applications have taken over all of the so-called activities that existed in the process of online car buying and selling and Autolist is a great example for the same.
Advantages of having an online vehicle buying and selling mobile app like Autolist
· Offers hassle-free experience for the customers
· Eliminates brokerage fees
· Closes the best deal
· Seamless way of buying and selling vehicles
· Online inventory integration
· Certified buyers and sellers
Features of an online vehicle buying and selling mobile application like Autolist
· Sign in/ Sign Up
The app should allow its customers to create an account on the mobile application which can be done with the help of email addresses, phone number or social media handles like Twitter, Facebook, etc.
· User Profile
User Profile is the exclusive space for the users where they can access, view and update their details including username, password, communication details, contact number, etc.
· Integrated camera
The app should have access to the camera as users will need to take and upload pictures of their vehicles. Having an in-app camera will help them in carrying out this process in a seamless manner. This offers an interactive experience to the customers.
· Enhanced Inventory Management system
As it is an online buying and selling car platform, It should have an inventory management system where the customers can find out the dream cars of their kind. This will make their search for the used cars more productive and efficient.
· Comprehensive search bar
The search bar is a mandatory feature that needs to be integrated into the online used vehicle buying and selling mobile applications as the users need to exactly find out the cars they need. This will help them in landing on the vehicles they wish to own.
· Advanced filters
The mobile application has to e integrated with advanced filter options that make the users search for the right car more productive. Filters can be based on the car type, model, year of make, car segment, name, its features, classification based on the type of fuel, price range, etc.
· Content Management System
There should be the right content management system to update and existing or new content in the mobile application.
· Vehicle listing
In an event where a customer wishes to sell his vehicle on an online used vehicle selling the market place, the facilities have to be made possible for him. Having a vehicle listing feature will let them in listing the vehicle which he needs to sell. HE also can add several features including the image of the vehicle, its registration number, model number, features, segment, etc. This helps the vehicle owner in figuring out potential buyers.
· Chabot
Integrating a high-end chatbot into the existing platform will make the app more appealing as it will help businesses in gaining huge traction across the globe. The main purpose of integrating chatbot is to deliver exemplary customer support to the users and to guide them throughout the entire process of buying or selling a car.
· Interactive UI/UX
Interactive user interface and outstanding user experience help business in attracting customers on to the platform. Eye candy interface plays an important role in determining the success of a mobile application, so in the case of an online vehicle buying and selling software.
How much does it cost to develop an online vehicle buying and selling mobile application like Autolist
Traction the pp has gained across the globe has made Autolist every entrepreneur's referral domain. The app is delivering unimpeachable services to a wide range of categories. This has enhanced the rising demand for the mobile application and prompted entrepreneurs is keenly searching for the development cost of a vehicle buying and selling mobile applications like Autolist. The costing part of any mobile application is bound to a lot of factors. Some of those factors are mobile application platform, app size. App location, app security, app technology, in-app features, app maintenance and much more. Based on these factors, the development cost of a used car buying and selling mobile application will be approximately around USD 10000 to USD 50000. The price may vary based on the type and characteristics of the prerequisites.
DxMinds Technologies- The best mobile application development company to build a used car market place
DxMinds Innovation Labs is a leading digital transformation and used car buying and selling mobile application Development Company having corporate offices in USA, India, Peru, Australia and UAE and customer base rooted across the globe. DxMinds innovation Labs helps business owners in coming up with high-end mobile applications which help them by playing a key role in determining success. Mobile applications developed by DxMinds are highly reliable, scalable and convenient. For more details on how mobile application built by DxMinds can transform your business, and to avail a free consultation on the same, drop a mail to info@dxminds.com