April 30, 2021
Posted by:

Admin

Category:

Internet of Things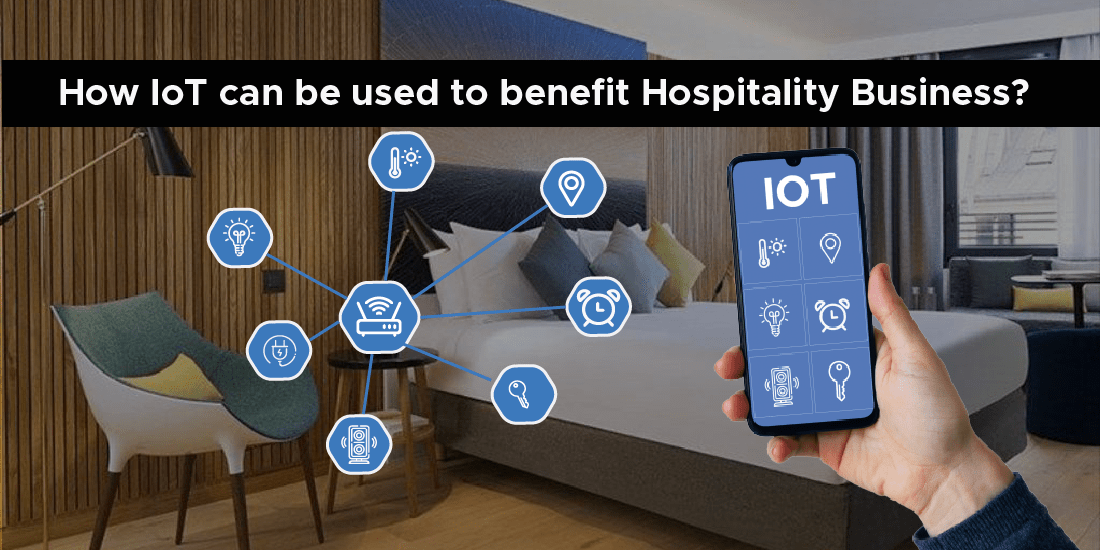 No person on this planet is untouched by the effects of IoT in their life. Well, IoT not only deals with the connection of things or services but has changed the way services and things deliver value. Henceforth every business is utilizing the Internet of Things(IoT) from household door openers to industry applications that solve high energy consumption and reduce costs as well. 
there is still a question: how IoT affects the hospitality industry?
Any business in this tech-savvy competitive world it tough to survive if it lacks the adaptability towards the yearning for technology. Hence it has become the most required thing of the hour to adopt automation. Iot-based hotel management systems can help to improve data collection, increase the level of automation, and allow for multiple devices to be controlled from one centralized place. 
Customer control at its utmost priority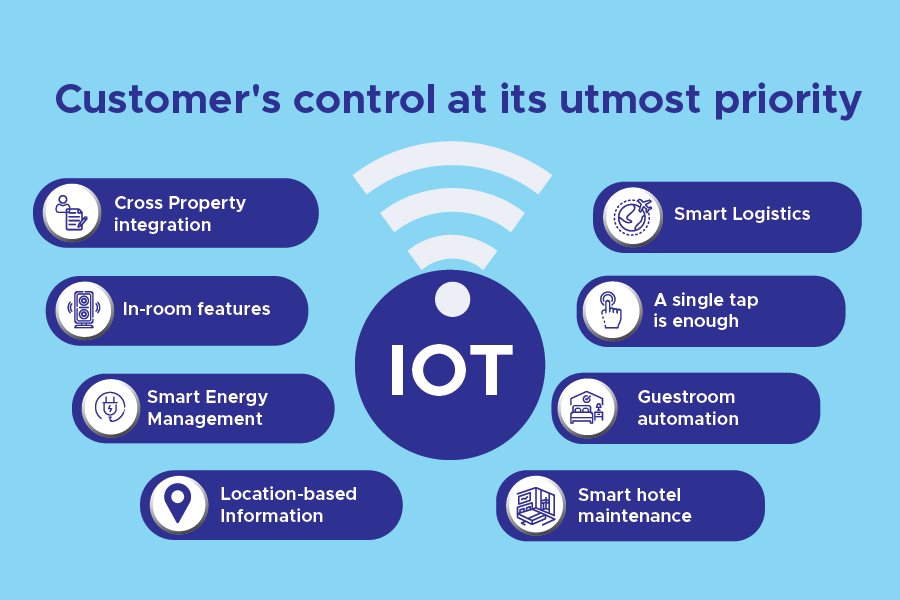 Every customer always wants to give a touch of personalization. It seems to be a daunting task but not with IoT since its database could catalog and assess their interests and hobbies to change according to their conditions. These IoT-enabled devices enable a sense of empowerment by offering their requisites.
Connect with us
Smart Logistics
After the IoT-based hotel management systems came into existence, real-time access can be easily handled through the database. It offers a secure network to prevent the system from any fraudulent activities. 
A single tap is enough
Enormous data can be easily accessed with the help of a cloud of connected devices to access information. The hotel and restaurant owners find it cost-effective to maintain the performance ratio and manageable interoperability.
Guestroom automation
"The first impression is the last impression", this proverb proves right in the case of hospitality as the customer will love to visit you again. A pleasing and personalized stay always prefers a completely different experience according to their wishes. You can employ a centralized network of automated systems to deliver customized solutions.
Your guests would love to come back again if you remember their likes and preferences. If the customers are preferred their favorite activities, your guests can fill out these preferences in the centralized app and the applicable Services which can be activated as soon as the guest arrives.
For instance, a sensor can detect that the guest has woken up and automatically serve the coffee. Even if the sensors also detect the occupancy in the room and if the guest has left the room, the appliances will automatically switch off hence saving electricity. 
Smart hotel maintenance
There are several examples of the IoT in the hospitality industry
The hospitality industry spends a lot on maintenance. In case, where sensors can detect the areas in your hotel and fix them automatically or at least inform or notify you when the guest comes. In case, if the guest faces a broken appliance, it affects his experience and your reputation. There are instances of complaints of faulty lights or leaking water in the hotel room. 
Sensors need to be installed to detect leaking taps or faulty lights which must be triggered actions to either repair or replace them. It will save water.
Click here – Iot based hotel management system
Cross Property Integration- IoT upgrading its next level of CRM
How will you feel if the properties can share guests' details and preferences with the interactive IoT systems? In most cases, the guest data should be centralized in hotel chain scenarios, so that they impart a great guest experience using that guest data. All this information can be uploaded to maintain transparency across properties. This cross-property integration can offer assistance to the hotels to offer the guest the same service customizations if he/she checks in any of the properties across the world. 
In-room features
What is the first thing you look to book a hotel? Not the location, not the rating, yes the room is something a customer books to experience his comfort and IoT can completely transform the guest experience in the room. With every system connected through the internet, a customer can enjoy a heavenly feeling such as keyless doors- which open automatically when the guest arrives, set temperature in the thermostat according to their preferences, optimum lighting in the room, and offering their favorite TV channels could be some of the few experiences within IoT. 
Amazon Alexa and Amazon Echo are the best examples of IoT services used in the hospitality industry. Alexa can be configured to allow guests to control and adjust the in-room features. Moreover, it also allows customers to request room service, book a table at the hotel restaurant, or book spa sessions by simply speaking to a device in their room. The IoT is being deployed in the hospitality industry to automate processes and improvise the customer experience to save money on energy costs and maintenance.
Get in touch with our experts
Smart Energy Management
IoT is employed for smart energy management by utilizing smart thermostats, occupancy sensors, and sophisticated machine learning algorithms. IoT can help you analyze the usage pattern for energy, local weather, and peak season demands to meet energy consumption all year round. 
For instance, Ecolibrium Energy's smart sense helps to track energy trends and consumption to schedule the power consumption according to the load. This can prove beneficial to maintain accurate consumption data or occupancy in the banquet hall, to control the A.C temperature to save energy and costs.
Mount Kelvin: It refers to a device that gives the best-in-class experience to guests in terms of their preferred room preference. It proves beneficial as it offers the guest the chance of controlling the lighting, heating, curtains, and air conditioning, with a wireless switch, mobile app, or voice control like Alexa. For instance, if you want to get a bright image, it will do that.  
Flic: Flic offers a wireless Bluetooth button that enables the customer to get on-demand housekeeping services with a single tap. These services range from taking towels, to getting a coffee too. 
Nest Thermostats: Google Nest helps you save both money and energy, just by connecting the hotel's booking system and reducing the cost of vacant rooms by understanding the count of booked rooms. It also enables to cool or heat the room according to the preferences of the guests. 
Valpas: Have you ever heard about an IoT solution that can catch bed bugs? Yes, Valpas is one of those innovative solutions which can develop an automated bed bugs prevention system that catches the bed bugs inside the legs. These IoT solutions transform the hospitality industry into a better world. 
The investment to implement IoT in hospitality proves to be a one-time investment since it brings long-term benefits for all industries. 
Location-based Information
Beacon technology, GPS, and Bluetooth are proven to be great essentials to deliver location-based information, which can be utilized in the hotel and hospitality industry to send messages to customers. This information refers to sending SMS messages about the menu items at the restaurant, or up-to-date information about the timings of restaurants. 
The Conclusion
IoT in hospitality has enhanced the integration of guests with personal gadgets of guests to offer a seamless hospitality experience. It also enables hotels to customize their reservation based on the previous stay. Hence IoT in hospitality has many useful applications to embrace their business. Why wait for tomorrow? Make sure you get IoT services in your hotels.  
Customize your quote
Popular Blogs: