October 11, 2022
Posted by:

Admin

Category:

Chatbot App development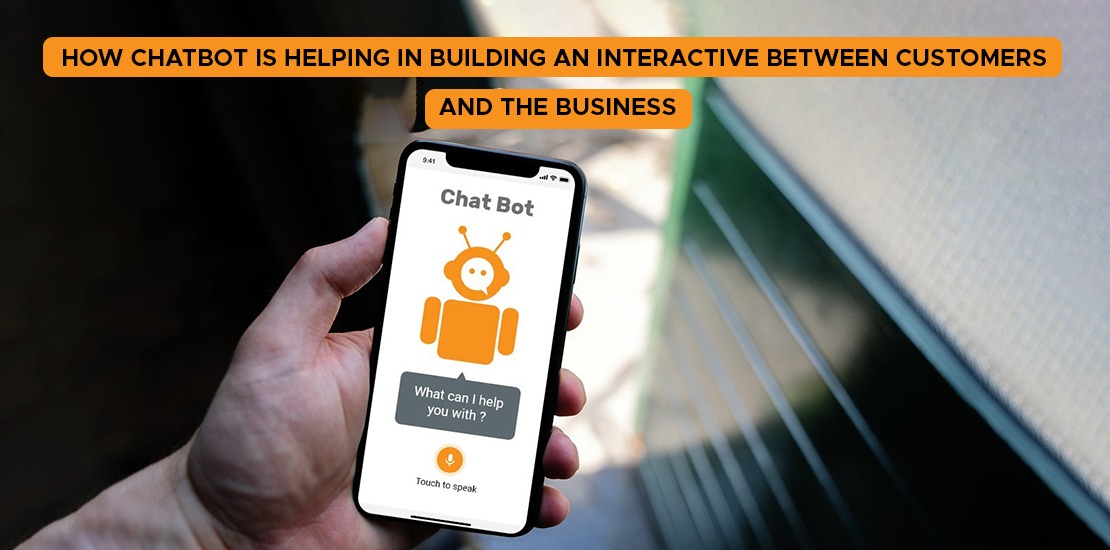 What is Chatbot? How Chatbot Will Help Customers and the Business
In this era, technology is offering its best to make our lives colorful. Especially when it comes to the perspective of running a business, technology offerings can never be ignored. Moreover, it has created an eco-system where our existing landscapes were created seamlessly with fewer efforts and tasks.
Introduction to Chatbot
One of the latest revolutions that followed the pathways of technology was a chatbot that created huge disruption. The idea of a chatbot is to offer enhanced customer support thereby generating fruitful business. In this tech-savvy world, chatbots are widely been used throughout the lengths and breadths of various industries. Chatbots are real power-packed solutions that help businesses to grow and flourish. In a nutshell, we can say that chatbots have all the necessary ingredients to take your business to the next level.
What is Chatbot
Chatbots are an interactive communication platform between customers and businesses. They are programmed languages with a set of instructions given which is capable to solve customer queries. Chatbots are replacing human agents effectively thereby helping businesses in saving a potential amount of funds they can use for some other purposes. The data given by chatbots are accurate and precise. It can take your customers through a wonderful journey thereby leaving a better impression of your company. Chatbot not only helps you in offering a wonderful customer experience but streamlines your internal processes. These features prompt business owners in integrating chatbots into their systems.
How Chatbot works
Working with Chatbot is quite simple. They are just like human agents but virtual bots that can carry out effective communication with customers. When a customer ignites a chat, the chatbot asks in detail about what particular they are searching for. They try their best to provide precise information.
Types of Chatbot
Based on its type and mode of application, Chatbot is again classified into different types. Let us see in detail, what they are:
· Normal Chatbot
This is the simplest form of a chatbot. It consists of pre-programmed languages. The field of service of this chatbot is limited. And this can be used only in specific cases. The questions that a customer can ask are predicted and the answer to the question is saved in the library. Whenever these sets of questions are asked, the Chatbot responds immediately.
· AI chatbots
AI or artificial intelligence chatbots are the kinds of a chatbot that was developed to overcome the limitations of normal chatbots. They can engage customers in such a way that no questions from the customer's end remain unanswered. AI chatbots make use of machine learning algorithms using which will learn based on various scenarios and conditions. Some categories of Artificial intelligent chatbots can respond to customers based on their emotional moods. Having an Artificial intelligence chatbot integrated into your systems, you have access to an ecosystem, where there exist no human errors.
· NLP Chatbots
Natural Language processing chatbots or NLP chatbots are capable of understanding, processing, and replaying back in the local language. This chatbot can be used to engage customers if your customers are based globally and want to engage them in the best way possible.
How a chatbot can level shift your business
Customers are the real assets of a company and they determine how far a business should go. Many businesses fail miserably because they fail at engaging their customers in the right way or fail at delivering the best customer service. A business should not lose its customers but should grow its customer base in the larger way possible. It is at this point that chatbots play an important role. Having a chatbot for your business is like having the right key for opening the door to success. It let you unlock potential doors, which in turn can bring the best out of your business.
Chatbot serving industries
Almost all industries make use of chatbots to enhance their sales and revenue. Let us see some of the major industries tats make use of chatbots.
· Customer support
Chatbots minimize the errors that occur while handling customers. This prompted business owners and companies in integrating chatbots into their customer support sections. Chatbots delivers exemplary customer care services making it one of the best technology applications of all time.
· Human Resource Chatbot
Human Resources in every company has a lot of documentation and queries to solve if the company size is huge. In that case, companies can make use of chatbots to carry out effective employee communications. Right from hiring employees to processing their payslips and resignation, chatbots can play an important role.
· Banking industry
The banking industry makes use of chatbots to streamline both in-house as well as customer relationship management processes. Being one of the most sensitive industries, the smallest error can cause huge harm to the reputation and brand value of banks. This can be eliminated with the best use of chatbots.
· Automotive Industry
A chatbot can help customers solve their queries and can convert prospects to leads through the best usage of technology and innovation. They can take them through the entire process of buying a journey, giving in detail about all the aspects of vehicles and brand concepts.
· And many more industries
Many industries in the world are appreciating the use of chatbots because of the facilities they offer. They are helping companies and play an important role in determining their future.
Advantages of having a chatbot
· Enhanced customer engagement
· Economical and reliable
· Customer-friendly
· Enhance brand value'
· Reduce costs
· Diminishes human errors
· Highly efficient and productive
With a proven track record of delivering success to small, medium, large, and even global Fortune companies, DxMInds Innovation Labs is one of the best chatbot development companies in the world. Our expertise in the area of developing top-notch chatbots helps you in availing a bot that makes your business better and takes it to the next level. High expertise and domain expertise are the main factors that set DxMinds apart from other chatbot development companies across the globe. The services we deliver in the area of chatbot development help you onboard success and take your business to the next level.
Why DxMinds for developing a top-notch chatbot for your business
· Leading digital transformation company
· Global leaders in chatbot development
· Cut-throat solutions and cutting-edge technologies
· High domain expertise and talented professionals
Are you actively looking forward to hiring a chatbot app development company in building the best chatbot? Hire DxMinds Innovation Labs and experience in real what chatbots can do to enhance your sales and revenue.