Hire Django Developers in India
Want to hire top Django Developers at a profitable price? Contact DxMinds the company where you can find a team of skilled and experienced developers and programmers, who have gained immense experience in offering Django development services.
Hire Dedicated Developers
Dedicated and Top Django developers for Hire
Django is a high-level Python web framework that helps rapidly develop secure and maintainable websites. To leverage this framework fully and adequately, you need to hire dedicated Django developers with great Python language expertise.
Hire the Best Django developers at DxMinds who provide skilled, talented, and experienced candidates based on your project requirements. Feel Free to contact us for dedicated Django programmers, we will refine the best Django developer profiles for your project.
Full Fledge Services our Django Developers Provide
Our flexible Hiring Models
DxMinds the top Django developer's service provider understands that one project's requirements differ from another. So to satisfy each of your requirements, we serve you with different flexible engagement models. 
According to your project concept, you can opt for the best-suited one and enjoy the amazing development service.
Dedicated Django Developers' team
In this model, we provide you with Django development professionals on a long-term basis or according to your project basis. These developers are chosen according to your demands in terms of experience and skillsets.
The team is called dedicated because they work exclusively on one specific project.
-Pay only for the amount of work done
-No hidden cost
-Monthly billing
Time and Material
This is utilized when the resources and time can't be estimated at the start. For a project that has a continually changing scope or requirements, our Time and Material model is perfect. It's an incredible agile model that fits best for iterative app development
-No hidden cost
-Requirement-based working hours
-Pay only for no of hours worked
Turnkey Co-owned Project
This model is applicable if you have a well-organized process to gather requirements, scope, deliverables, and different criteria for the project. There will be a mutual deadline through which resources hired from us accomplish the given task 
-Milestone-based payment
-No setup fees
-Pre-agreed budget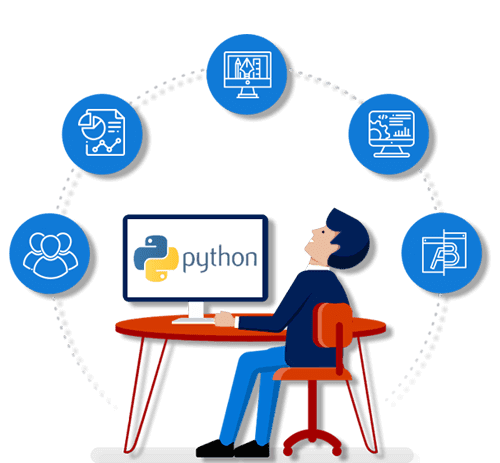 Why Hire a Django developer from DxMinds?
Skilled and Experienced resources
We have recruited the best Django developers available in the market, who know well how to transform your business into an advanced solution
Privacy and security
Ensuring the privacy and security of your project details or data is our top priority. We guarantee this by signing an NDA form. 
Daily Progress report
Our skilled project manager shares your regular project updates so that you should be in track with your project progress and other necessary details 
Flexibility
We have a team of engineers who is truly flexible and who shows high adaptability in their working style.
Trustworthy and Reliable
With regards to designing a responsive website that fits your project idea, then DxMinds can be your one-stop destination. With us, you are guaranteed to get the best and most fulfilling results.
100% Transparency
We trust in offering 100% transparency, by keeping you updated on each phase of the development process
Frequently Asked Question's