May 12, 2023
Posted by:

Admin

Category:

Mobile App Development, Mobile app development cost, Uncategorized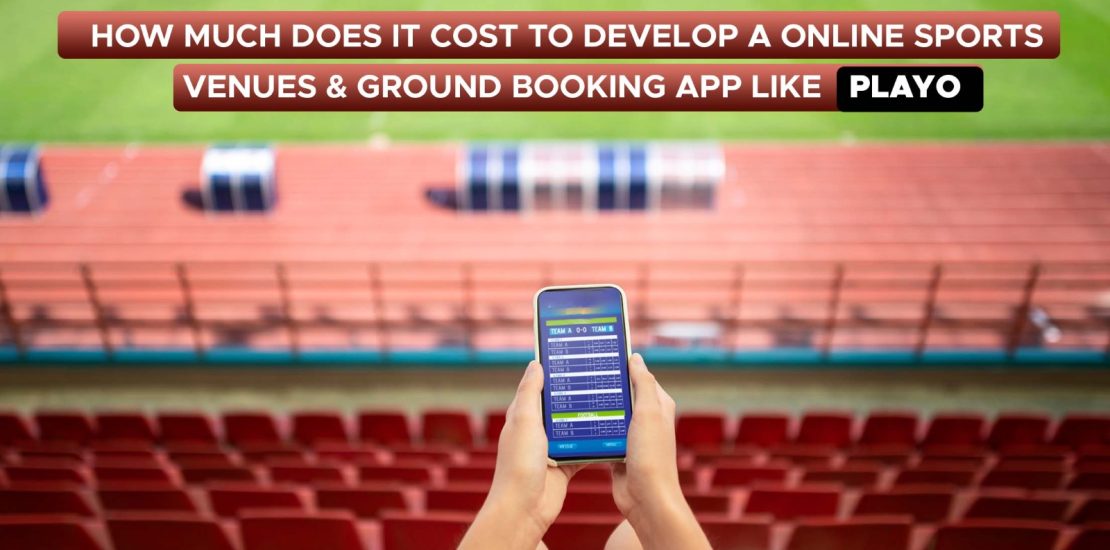 How much does it cost to develop an Online Sports Venue & Ground Booking app like Playo?
Sports is one of the favorite hobbies for many people among us. People are getting more aware of their physical fitness. They find sport as the best medium to keep their cardio right and fit. They are constantly practicing and sharpening their sporting skills. But finding and booking sports venues and grounds is a tedious task. This is progressively boosting demand for playground booking applications and their development. A sports venue booking app is a mobile application to book playgrounds for sporting events, local tournaments, one-day matches, etc. These apps help users to book sports venues to play games like Badminton, cricket, football, etc.
Playo is a popular ground booking app to book sports venues in advance at a convenient time and location. With the Playo app, a player can book a reservation for a particular date and time. Building a sports venue booking app is a good business model too. It can help founders to build a scalable start-up. This article shows the cost of developing online sports venues and ground booking apps like Playo, KheloMore, Playspots, etc. Also, we can see the factors affecting the online sports venue booking app development cost in Mumbai, Bangalore, Hyderabad, etc.
About Playo
Playo is a mobile application that helps users schedule sporting events, and book sports venues, playgrounds, etc. In general, it is a sports-related online platform. But it accomplishes much more than that. Using the Playo app, users can also search for coaches and trainers, join communities, and track their activity progress, etc. Both iOS and Android users can download the app.
Why develop a turf bookings app like Playo, KheloMore, or Playspots?
A ground booking application comes with a wide range of advantages for both venue owners and players.
For the Players
· Explore nearby sports venues/grounds: With the app, it is simple to locate a nearby playground or turf available for booking.
· Book sports: Playo app helps players book their favorite sports venues by making payments in a hassle-free manner.
· To meet people with the same interests: An app like Playo can help you find new friends who share your interests. Users can also find a friend or mentor to learn about a particular sport.
For business owners
· Easier bookings of the playground: Anyone who lives close to the playground can directly book the space through the app. Owners can fill up their playground booking quickly.
· Enhanced Revenue: Owners can easily list their venues with details and images of the playground. This will help them get more bookings when compared to the traditional methods.
More visibility: Sports venue booking apps can give more exposure to sports venues. This results in enhanced visibility.
Easy business operations: Sports venue booking apps like Playo help venue owners in managing their properties in a hassle-free manner. This eliminates all the manual efforts involved in booking confirmation, slot allocation, and venue management.
What are the features of the ground booking app like Playo
Profile
Users need to set up their profile first. After the profile creation, you will see features such as reputation badges, a leaderboard, and Karma. Reputation badges are community-generated reputations for users based on their sports ethics.
Playpals
Following each match, users can gain Playpals based on timeliness, team player mindset, and the capacity to pay on time.
The Leaderboard
It displays the total number of games users have played since joining Playo. Peer Rank is your ranking in the leaderboard within your Playpals based on your activity over the last three months.
Karma
Karma is a unique loyalty program point that can be earned by being active on the platform and redeemed by making purchases through the app. Users can earn Karma by answering questions in the community learn section. Karma points are valuable since they may be redeemed when booking. Users can save up to 5% off the total booking price.
Find and book venues
Playo aims to make booking a sports venue as simple as possible for the users. Important facts such as venue location, rating, working hours, and available sports are visible. Users can also rate and share venues with their friends. Playo has a bulk deals section where you can reserve discounts for a specific time.
Offers and Discounts
Playo offers a variety of offers and discounts for its users.
Play section
The Play section is intended to show users various sporting events that are taking place in their area. Users can also see the number of attendees. The most outstanding feature is that users can create their own activities. You can even specify who can and cannot participate in the activity. This is an excellent way to connect with new Playpals and broaden your social network. If you want players of your skill level to meet, you may specify that in our advanced settings tool.
Learn section
The Learn area of Playo is where people can learn about numerous sports. They can also read and learn about any sport, from the fundamentals to methods, nutrition, fitness, and equipment.
Admin App
The best mobile app development companies in Bangalore offer fully functional admin apps for sports venue owners to manage their calendars, bookings, and venue management.
Looking to develop a sports-related app? Get a Free Quote
Factors that affect the development cost of an app like Playo
The sports app development cost may differ based on the following factors:
App platform
The costs of developing an online ground booking for the Android and iOS platforms are different. Users want applications that can be accessed from various operating systems and devices. As a result, developing a cross-platform application will raise the overall development cost. So, you must determine which platform to use for your project.
App features
It is one of the factors that impact the cost of developing a ground booking app. Many features and functionalities increase the complexity of developing an app. The development period will be more if your app has more features.
Tools and technologies
Every day brings a new set of trends and technological advancements in the area of mobile app development. An online sports venue booking app development cost depends on the tools and technologies that developers use.
Location of the app development company
It would be much cheaper for you to hire the best iOS or Android development company in Bangalore, Mumbai, India than to do it in the United States or any country. The cost may increase if you select an app development company with more experience. Therefore, these two factors are crucial when determining the cost of an online sports app like a turf booking app or a swimming pool booking app development.
The complexity of the app
The complexity of an app refers to the enhanced features it has. The difficulty and cost of developing the app would grow if you wanted to develop it for a global audience. Because you would need to incorporate specialized functionality.
App maintenance
Another crucial factor that can significantly affect the box cricket booking app development cost is app maintenance. A turf booking app must be regularly updated with security patches, technical support, bug fixes, and server maintenance. To guarantee that the app remains updated, safe, and continues to offer a seamless user experience, it is crucial to plan a budget for app maintenance from the beginning.
The UI/UX design
The design is the primary thing a user notices about the app. It has to be attractive and enhance the user experience. The UI/UX design is another essential factor when estimating the badminton court booking app development cost.
How much does it cost to develop a sports venue booking app like Playo?
Determining the exact sports app development cost is difficult to predict since it depends on various factors, including the complexity of features, the technology stack employed, the platform, etc. For example, the development cost of an Android app differs from that of an iOS app. These are just a few factors that impact the overall cost of online sports app development. However, we can give you an approximate range. On a high level, online sports venue booking app development costs can range between $25,000 and $80,000 and vary based on your requirements and integrations.
Conclusion
Apps for booking playgrounds are about to set the pace because they provide a variety of valuable advantages. Both players, sports lovers, and playground owners benefit from playground booking apps. So, select a reputable mobile app development company like DxMinds if you intend to design a Football/ cricket/ Badminton ground booking app in Bangalore.
Develop an app like Playo. Get a Free Consultation