October 10, 2022
Posted by:

Admin

Category:

Famous App Analysis, Technology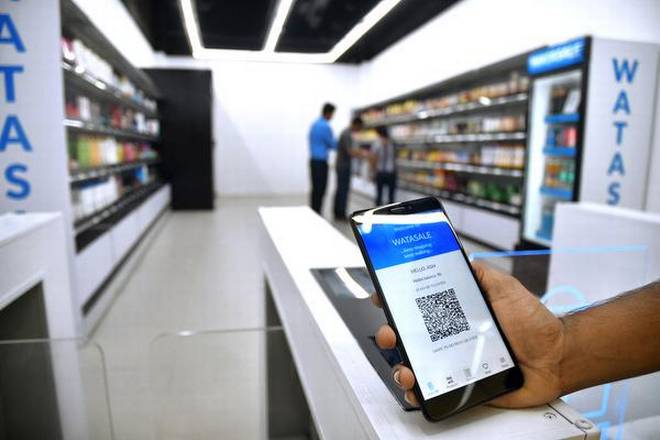 COST OF SETTING UP A STORE LIKE WATASALE
People entering a store, taking whatever they want and just leaving out. No queue, no cashier, or not even a single salesman. Wondered. Right? Yes, this kind of store exists. It's WATASALE. Operating in 500sqft of an area, the store is located in Cochin, one of the upcoming technologic hubs in South India. It is a fully automated Artificial Intelligence Store combined with deep learning, computer vision, and sensors. It is inspired by AMAZON GO.
HOW IT WORKS
• The 24×7 store comes with a mobile app.
• Customers can enter the store by scanning QR code at the store-front using the mobile app.

• Goods will be arranged in such a way that customers can go and easily get it.

• Products will be automatically added to cart when a customer picks it. Also. it will be removed from cart once they place it back.
• An invoice will be sent to their accounts and cash will be debited automatically from wallets once they left the store.
TECHNOLOGIES USED
• Machine Learning
• Deep Learning
• Artificial Intelligence
• Computer Vision And Image Processing
ADVANTAGES OF SETTING UP AN AUTOMATED STORE LIKE WATASALE
• Enhance customer experience
• The store brings in pure Innovation
• Reduces Manpower
• Increased profits
SALIENT FEATURES OF WATASALE
• Fully operates under overhead cameras and sensors.
• Scanning QR code is a onetime process, that too at the time of entry. Customers need not scan every product they buy.
• One person can only enter by a single scanning of a QR code.
• Entry of multiple members from a family is possible by scanning the QR code from the same phone each time for each member.
• With the help of sensors, overhead cameras, and AI, the products customers pick from the racks are monitored and tracked.
• Bills for the purchased Items are sent to the customer. The amount will be debited from their app wallet. They can also use the credit card.
COST OF SETTING UP A STORE LIKE WATASALE
The cost of setting up a store like WATASALE depends on various parameters. The total cost includes the price for hardware, sensors, and software. It also depends on which all platforms you want to develop the mobile app. Pricing is finalized after considering all technical and non-technical aspects.
Being the pioneers among Mobile apps development companies in Bangalore, it not at all a tedious task for DxMinds for setting up a store like WATASALE. As constantly thriving for perfection, we always appreciate new challenges. This made us experiment on a regular basis with the new verticals of technology. Thus we go for the best economical solutions in implementing the latest technology to your business. For more details, write to us: Info@dxminds.com