Top Chatbot App Development Company in Dubai Abu Dhabi UAE
Dubai, one of the finest cities in the world is all about to explore the full potential of Chabot. Top Chabot developers in Dubai, delivering intelligent and user-friendly bots that allow natural interaction between the business and customers. The advent of Chatbot has revolutionized many industries in Dubai, by widening the doors of faster and effortless interaction between client and company.DxMinds, the best Chabot development company in Dubai make use of enhanced Chabot solutions to empower your brand value. Adopt Chabot for your business and let them work 24/7 .
Chatbot powered by artificial intelligence technology stimulates interaction with users via text-based interface primarily. These are the computer programs that can be integrated into multiple platforms to aid the customers in the effortless conversation. Over the years, Chatbot has become one of the finest applications of AI and Machine learning technology. DxMinds, the leading Chatbot apps Development Companies in Dubai develops the powerful bots that popularize specific products, collect and solve customer inquiries, conduct surveys, and provide instant solutions. Chatbots make use of Natural Language Processing (NLP) to assess the requirement of the user based on the phrases he/she searches for. AI-based Chabot can easily figure out the emotions of the users based on the conversation and can act accordingly.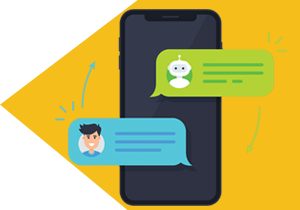 Chatbot Development at DxMinds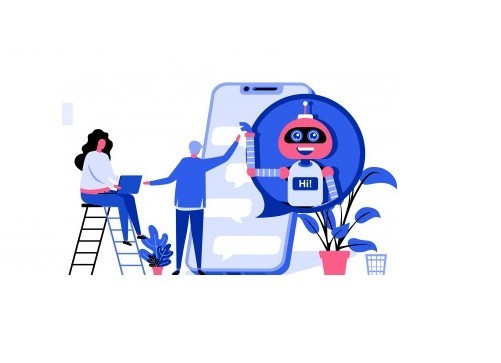 If you are visualizing having a full cycle customized Chatbot designed for a particular task like sales, lead generation, Tech support, HR, or Finance, DxMinds has the exact Chatbot solutions to serve you. We adopt the latest trends in both design and development that allows companies to reach out to millions of user. Our Chatbot solutions are highly interactive and innovative that it can be enforced into various industries such as e-commerce, customer support, entertainment, and health-care.
Our Chatbot Development Services
Chatbot developed at DxMinds offers quality conversion about your products among consumers. This increases the customer engagement rate on your Facebook page, which helps in exploring new verticals of marketing.
Our team of experts builds creative and innovative chatbots for WhatsApp that enable you to engage with your customers and solve their queries.
We have the capability to develop chatbots for internal communications on popular channel such as Slack that enables automatic reminders and notification to a group of people.
Our squad of developers designs a Chatbot for Telegram that helps you to deal with your customers in a unique and the finest way possible.

Twilio Chatbot Development
Our well-versed team members develop the robust chatbot that allows easier communication between your business and the end users, concluded by voice commands or text.
At DxMinds, our developers maintain high proficiency in developing interactive mobile app bots for businesses and enterprises. This helps the app users in clarifying their queries within no time.
Our organization offers the best Chatbot for business website regardless of it s niche. This will enables customers in having an interactive communication to clarify their doubts.
Why DxMinds for Chatbot Development?
We develop the Chabots which solve multiple problems.
Economical Chatbot developers
Our developers built effective and intelligent bots, which solves customers queries
24/7 customer support
The most trusted Chatbot app development company in Dubai UAE