February 23, 2021
Posted by:

Admin

Category:

Mobile App Development, Outsourcing and Offshoring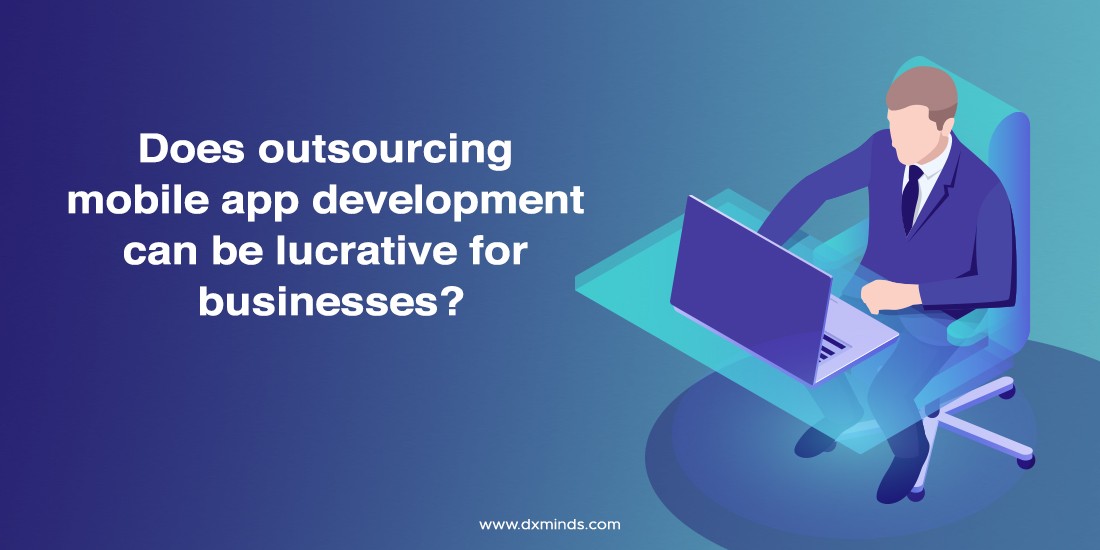 India is gradually turning out to become a global powerhouse of information technology and the IT industry. There are many major contributions India has propagated to the global community. The role played by India in adding value to the global technology space holds huge potential and the nation keeps on doing the same in the most perfect manner. India is almost in the middle of digital disruption and its landscapes have turned out in being favorable supporting the same. Digital transformation is taking place in India at a rapid pace. It's transforming the lives of many including organizations, individuals, and moreover the nation itself. Over the decades, the nation was able to successfully build up digital infrastructures and resources that global nations are keenly focusing on in the Indian market to have their digital requirements met in the best possible manner.
Outsourcing is the hottest topic in India as of now. Organizations are seamlessly leveraging the advantages offered by the nation to take their project development to the next level. They are giving their full priority to Indian developers and development companies in having their projects accomplished just because they trust this soil and its resources more than anything else. This is one of the major factors that has made India in having its digital infrastructures and landscapes boom like anything. So what are the major factors that made India the best outsourcing country in the world? Definitely, there have to have solid reasons for that and in this article, we are going to dive deep into this topic and have a quicker analysis of the factors that made India the top outsourcing country among the world nations.
India, the best soil for technology disruption
India has always upheld huge potential when it comes to technology disruption. The nation itself has inherent talents and resources that are capable of delivering groundbreaking solutions and technologies to both national as well as international organizations. The quality service imparted by Indian companies and developers has helped the nation in getting a profound space among potential organizations. Top-of-the-line services delivered by Indian digital transformation companies have helped organizations in leveraging state-of-the-art technologies to explore the most out of themselves.
Request a Free Quote
Factors that made India the best project outsourcing hub
When it comes to outsourcing projects in India, there are wide arrays of factors that determine and add value to the whole process. These factors are taken to utmost attention by global organizations and have played a key role in making India a hub for outsourcing global digital projects. Let us discuss that in detail.
Economical
Project development in India is highly economical and reliable in that it is affordable by various organizations spread across the global markets. India being the hotspot for outsourcing potential projects, one can seamlessly avail of the full-fledged and world-class level of services from India in an economical manner. A few of the major factors why the development cost in India is so economical are that there is a wide array of resources available in India in a flawless manner. One can seamlessly figure out as much as resources he wants to onboard from India in the best way possible. The next factor that makes India economical is that its cost of living is very less compared to other nations. This helps professionals in availing higher standards of life and they are paid accordingly.
Flexible government rules
The various governments that ruled the nation and their flexible rules and regulations have played a major role in making India one of the best outsourcing countries across the globe. The government rules and regulations in India are in favor of and are supporting the tendency of outsourcing in the best possible manner. This helps global corporations and organizations to avail a handful of services in a full-fledged manner. The flexible government rules also play a key role when it comes to setting up highly flexible offshore development centers in India that help businesses to save potential revenue, which in turn can be used for various other business scaling activities.
Resource accessibility
India is a profound nation that has enriched the availability of resources in terms of technologies, developers, infrastructures, etc. This has become a very good trait of the nation that potential companies figure out as a reason to invest in. One can seamlessly figure out n numbers of potential talents along the lengths and breadths of India and as a reason, organizations are making the most out of it. The resources available in India can be scaled up and scaled down in the most productive manner and this has helped big businesses dominate across various sectors and industries. Indian developers are highly flexible and productive when it comes to implementing products and services that uphold cutthroat innovation and futuristic applications.
Round-the-clock availability
When hiring resources from India, you are ideally making you exposed to services that are highly flexible and uphold a high degree of disruption factor. One of the main peculiarities that set Indian resources the best among the top-of-the-line developers is their capability to help you meet time zones. With Indian developers on board, you are given a chance to have your project developed with resources employing round-the-clock availability. Also, one of the major factors that enhances the demand for Indian developers is their ability to meet deadlines in a much more productive manner. One will find it hard to figure out this peculiarity in any other developers across the globe as Indian developers are the most appropriate ones matching this title.
Technology services delivered by Indian developers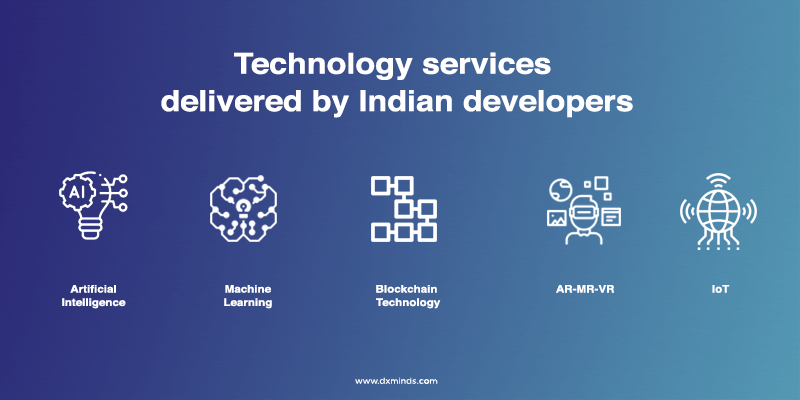 Artificial Intelligence
Artificial Intelligence is creating wonders in our current socioeconomic landscapes. The best applications of Artificial Intelligence are taking the business to newer heights and to put that into perspective, Indian developers come into the picture. Indian developers come with profound mastery in developing top-of-the-line Artificial Intelligence services, that are meant to level-shift your traditional business frameworks.
Machine Learning
Machine Learning services are gaining huge traction from the global community. It is helping businesses to outpace the competition and is helping them to reach out to the potential set of audiences in a precise manner. With Indian developers in your hand, you can have a sharp edge over the market by nurturing customer relationships with the best application of various machine learning modules.
Blockchain Technology
From cryptocurrencies to cryptocurrency wallets and exchanges, the applications of blockchain technology are getting vivid and enormous. With mastery over various blockchain applications, Indian developers can customize optimal blockchain solutions that fit the best for your organizational frameworks.
Augmented Reality/ Mixed Reality/ Virtual Reality
Industrial as well as day-to-day applications of state-of-the-art technologies like Augmented Reality, Virtual Reality, Mixed Reality, etc are leveraging digital disruption to its fullest so that the beneficiaries can avail the most out of it, no matter what. Indian developers come with impeccable predominance over these technologies and this makes them the best hire by the global organizations.
IoT
In this tech-savvy era, the best applications of the Internet of Things are exponentially taking businesses to newer heights. Indian developers are the best resources available in the global market right now when it comes to implementing and executing IoT with all its inherent potential. One can seamlessly hire Indian developers to make their dream come true with the best implementation of IoT development practices.
How to hire Indian developers?
The global business may find it hard to associate directly with Indian developers as it can be tedious at times. In that event, they can associate with the best resource augmentation companies in India like DxMinds Innovation Labs. The main advantage of associating with such top-of-the-line companies is that they offer a high degree of flexibility and transparency while hiring the best resources in India. These agencies play a key role when it comes to figuring out and hiring the right talents for fulfilling your requirements.
DxMinds- the best resource hiring agency in India
Being the industry leaders, DxMinds have gained all the relevant experience and domain authority in meeting customer expectations to their fullest, even by considering the least details into account. DxMinds upholds a wide array of talents in their resource pool and this makes hiring Indian developers from DxMinds highly productive and prominent. DxMinds showcases a wide array of flexible engagement models such as build, operate, and transfer, Turnkey and co-owned projects, Offshore Development centers, etc.
Book an Appointment With Experts
DxMinds Resource hiring model
Offshore Development Centre
The DxMinds ODC model is highly flexible as anything and offers a high degree of dependency for businesses. Under this model, DxMinds help you get rid of hefty processes such as resource hiring, resource training, infrastructure setup, etc. It let you save about 40–45% of your development cost and results in running a much more profitable business.
Fixed Cost Model
Under this model, the development process takes place prior to confirming the development cost. Resources will be charged on an hourly or monthly basis. This engagement model is widely adopted by business that wants to have their project delivered on time and requires minimum development time. The main advantage of having this engagement model is that you get full-fledged services developed at your doorsteps, meeting deadlines.
Build Operate Transfer
The build-operate-transfer model, as the name denotes is classified into three phases. The build phase is all about building everything from scratch, the operating phase comes with ensuring the flawless operation of the system and the transfer phase is all about dealing with the ownership of the entire system and its transfer to the owner upon request.
Get in Touch With Our Experts
FAQ
Why is India hiring resources?
Economical, Reliable, Flexible government rules, etc. are some of the reasons that make hiring Indian developers the best.
Which is the best place in India to hire resources?
When It comes to hiring Indian resources, global companies prefer more of Bangalore, the silicon valley of India.
Which is the best resource hiring agency in India?
DxMinds innovation labs, the full-fledged resource hiring agency in India helps you hire top-of-the-line resources in a seamless manner.
Popular Posts: