May 30, 2023
Posted by:

Admin

Category:

Finance & accounting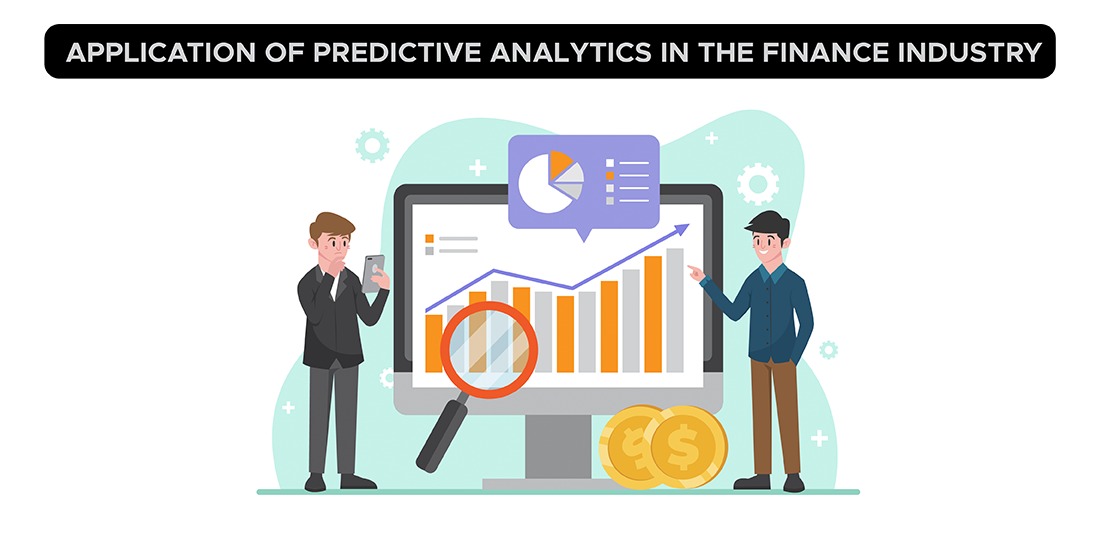 Application of Predictive Analytics in the Finance Industry
What is Predictive Analytics?
Businesses use predictive analytics to make accurate decisions by creating forecasts or model predictions based on data analytics, automation, and machine learning. The patterns and trends these models can spot in the data are more informative. Typically, data is subjected to many prediction models and algorithms, enabling businesses to monitor customer behavior and financial performance. Companies can use these data to forecast the future of businesses and plan expansion programs strategically. This is predictive analytics in a brief.
This article discusses how predictive analytics is used in finance and how it helps companies make crucial financial decisions to scale business.
How Predictive Analytics Helps Financial Industry?
In banking and financial organizations, predictive analytics applies statistical models to financial data that help businesses forecast future economic outcomes. This can be used to predict cash flow, make investment decisions, get real-time data updates, etc. Using predictive models, financial businesses will also be able to generate many economic scenarios providing all required data to make the least risky decisions conceivable. Predictive analytics in FinTech can impact corporate performance, data security, revenue growth, and risk management. It boasts ground-breaking capabilities and reaches across all verticals. With the help of Predictive Analytics in FinTech, businesses can drastically increase prediction accuracy, reduce planning time, and spot market moves early.
The Application of Predictive Analytics in Finance
Predictive analytics has a wide range of applications in finance. It enables businesses to plan investments and spending and estimate cash flows with high accuracy. It also helps in eliminating the financial risks involved in the industry and helps businesses deliver a great user experience. Next-level predictive analytics systems can predict the probability of a customer making a payment. For example, predictive analytics models can help businesses to identify customer payment trends, and credit risks, and spot defaulters. This is just the tip of the iceberg. Below are a few of the other application and use cases of Predictive analytics in finance.
Revenue forecasting
Predictive analytics in banking can help banks to understand cash inflows and outflows in a strategic manner. The algorithms can forecast the cash flow pattern based on invoice data, prior payment trends, and other inputs provided. Also, predictive analytics for business forecasting enables banks to segment clients based on their purchase history and make relevant plans accordingly.
Fraud detection
Fraudulent activities are a global phenomenon played by fraudsters and the financial industry is no exception. A potential fraud can harness the reputation of a brand and can affect its future. Applying predictive analytics can enhance the security of financial organizations. Predictive analytics analyses all instances of fraud in the real world and apply trained patterns to the latest data. KYC, cashless transactions, credit card use, insurance, etc. can be made fraudulent proof with the help of predictive analytics.
Risk management
Financial organizations should have a solid rock risk management strategy. It helps them stay ahead of all challenges in a hassle-free manner. The risk management strategies these organizations follow have evolved dramatically over the last few decades. However, with the advent of predictive analytics, financial businesses can now have a well-planned risk management strategy that let them stay ahead of the curve.
User Behaviour Prediction
Businesses can use machine learning algorithms to analyze customer spending behavior to determine their credibility. This helps businesses set the right credit limit for specific individuals. Making a model that predicts whether a customer will leave, or stay is another method of using predictive analytics.
Planning and Budgeting
Budgeting, planning, and resource allocation are tedious jobs, especially within the frameworks of financial organizations. Predictive Analytics models help businesses in the proper planning of resources, budgets, ROI, and more.
Payment Prediction
Most financial institutions find it challenging when it comes to collecting back the cash given as a credit to the customers. Predictive analytics algorithms use input data to predict whether a customer will pay on time, make partial or short payments, or must be forced into paying after the due date. The data include prior payment histories, present financial status, market conditions, etc. Payment forecasts help businesses prioritize accounts and customize client interactions based on how likely they are to pay. Companies can save time and effort on clients who will likely pay.
Improved Customer Retention
Banks and other financial institutions can use predictive analytics to analyze their client base thoroughly. It looks at how well customers use their services and how much they spend and then delivers personalized product and service recommendations. This helps banks deliver the best customer experience and improve customer retention rates.
Customer Service
Predictive analytics offer solutions to overcoming fundamental problems like client service and customer segregation. This will simplify marketing efforts by targeting a specific set of customers and providing them with customized service offerings. A strategy like this will help banks in minimizing ad spending, and risks and maximize return on investments.
Importance of Predictive Analytics in Finance
Increased revenue: Investment professionals can make market judgments that are data-driven and more profitable by using predictive models enabled by machine learning.
Personalized service: Companies may better understand consumer profiles, offer customization at scale, and boost customer engagement by analyzing vast amounts of customer data.
Decreased fraud: Organisations can process massive volumes of data in real-time and detect fraud more precisely thanks to machine learning and sophisticated statistical models.
Minimized risk: Financial organizations can use predictive analytics to analyze specific economic scenarios and make decision-based on facts to reduce risks.
Decreased cost: Financial businesses can better understand daily cash flows and boost the efficiency of their operations by using predictive analytics in budget creation and risk modeling.
Increased employee satisfaction: Because predictive analytics handle manual chores, staff may concentrate on more interesting and valuable duties, which boosts overall employee happiness and productivity.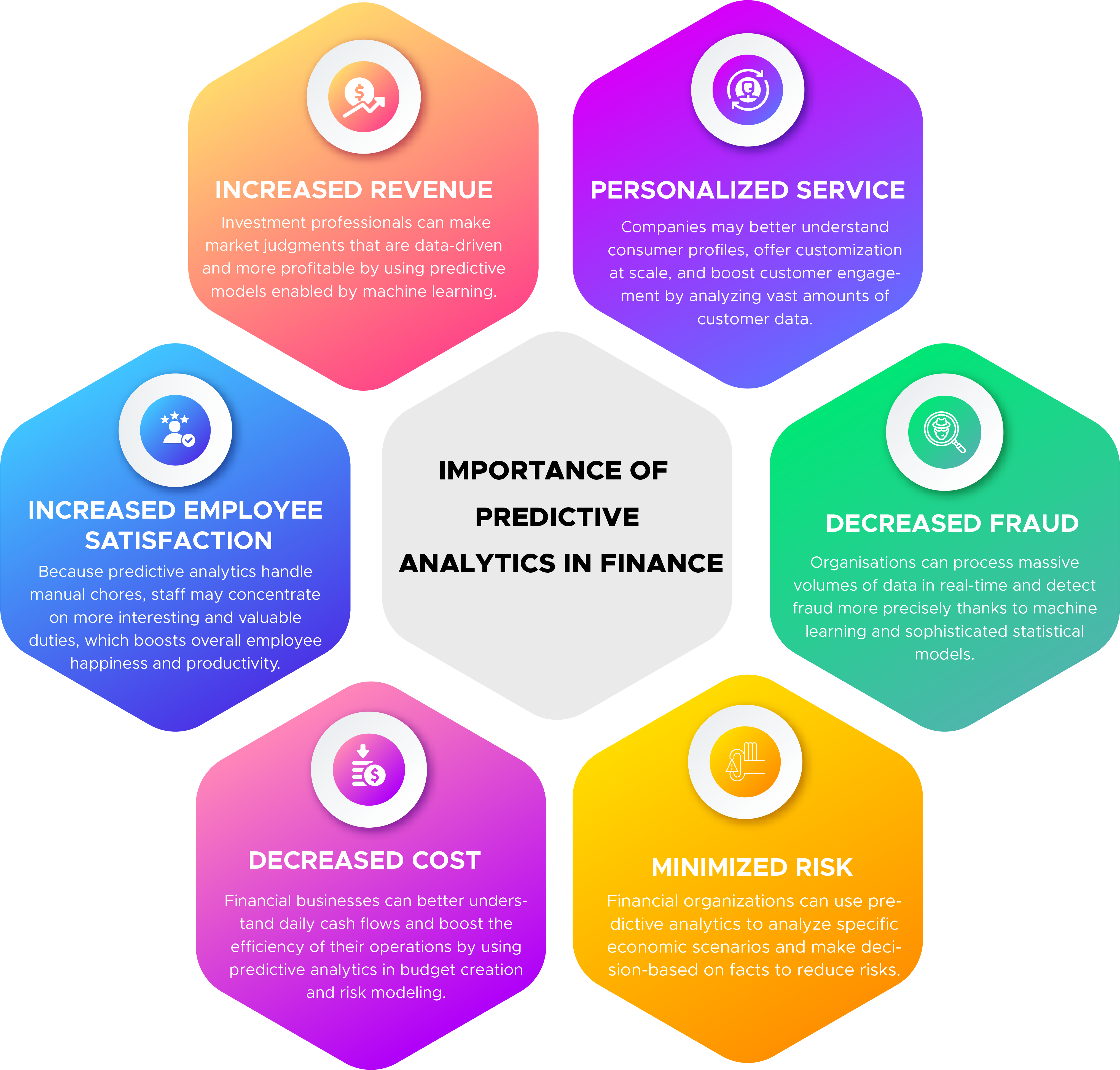 Predictive Analytics to Strengthen The Finance Team
To stay on top of the latest trends and explore the full potential of predictive analytics, organizations should restructure their teams. This will help them focus on the core vision and goals. Below are the strategies that can be implemented for the same.
Get a Quote
Eliminate Data Silos
Team members need access to reliable data to utilize predictive analytics solutions. The availability of accurate data is mandatory for the easy functioning of predictive analytics models. This enhances prediction accuracy and aligns financial strategies with operational plans. Organizations should align their strategies to meet the above requirements.
Train Employees to Use Predictive Analytics
Proper training should be made available to employees prior to implementing predictive analytics in the finance industry. The team should be trained in such a way that they are able to comprehend the numerous situations where the data types contribute to more accurate findings.
Select Solutions to Support Predictive Analytics
Choosing solutions with predictive capabilities can help you anticipate cash flows, risks, expenses, taxes, and other things as needed. You can hire Fintech app developers in Bangalore, India from the leading banking app development companies in Bangalore, India.
Conclusion
It is no doubt that predictive analytics enables banks and other financial services providers to make more data-driven approaches and decisions. The future of Predictive Analytics in Finance holds huge potential as it comes with a wide range of advantages such as enhanced fraud detection methods, increased customer retention rates, etc. Reach out to DxMinds, one of the best FinTech app development companies in Bangalore if you are looking forward to implementing top-of-the-line predictive analytics solutions to your business.
Looking to develop a fintech mobile app? Get a free consultation