January 20, 2020
Posted by:

Admin

Category:

Chatbot App development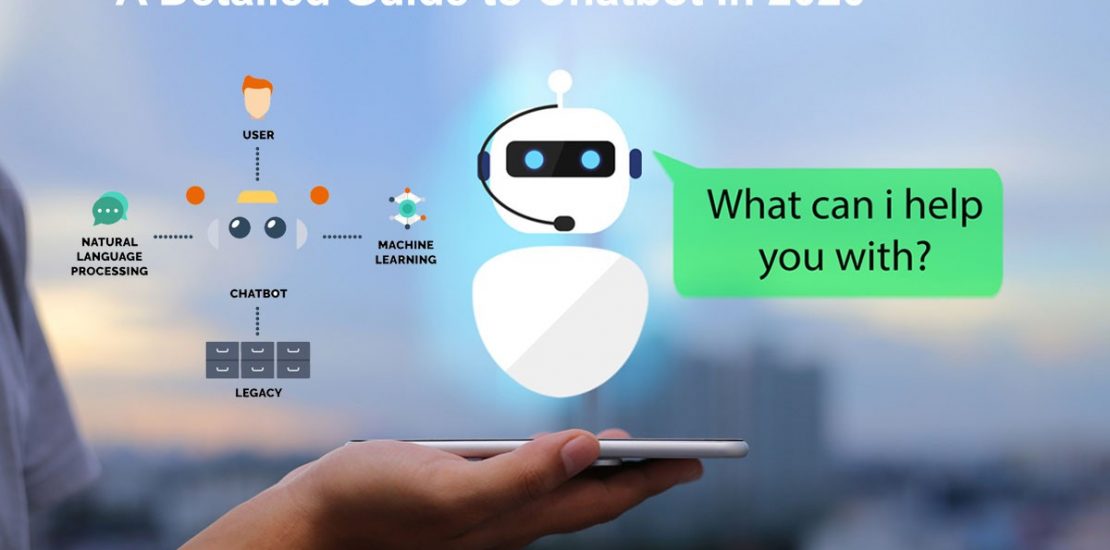 What Is a Chatbot? The Full Guide to Chatbots in
2020
It is no doubt that Chatbots alias virtual assistants are creating wonders in the technology space. It has transformed the technology landscape to its next level and has brought a tremendous revolution in its respective industries. This article deals with more of chatbots, its nitty-gritty aspects, and the industries that are about to get revolutionized because of chatbots.
What is a Chatbot?
Chatbots are nothing but computer programs, which are mostly used across various industries to have productive conversations with its customers. The mode of conversation carried over by chatbots can be of different types. It can be either as a text or as a voice. A Chatbot serves its purpose of engaging customers via various mediums and those mediums can be social media, websites, mobile apps, etc.
Classification of Chatbots
Based on its development and mode of operations, chatbots can be broadly classified into two:
· Scripted or pre-programmed chatbots
· Artificial Intelligence Enabled Chatbot
Let us see what they are on a detailed basis:
· Scripted Bots/ Pre- Programmed bots
As the name denotes, scripted or preprogrammed bots are that category of bots, which respond to its customer queries based on a set of pre-programmed information provided within a library. The library consists of a pre-defined script. The very next moment a user ignites a query, the Chatbot's response will be based on the script. If anything other than the script comes as a query, the chatbots won't be able to take it further. In that scenario, the chat will be handed over to a human executive.
· Artificial Intelligence Enabled Chatbot
Leveraging NLP or Natural Language Processing, Artificial Intelligence enabled chatbot respond to its customer queries with the most accurate replies. As they are AI-enabled chatbots, they can easily interpret with human language and are capable of enhancing the user experience by engaging them in the most productive way possible. Artificial Intelligence enabled chatbots are even capable of identifying the customer moods based on their way of communication and can handle them accordingly. The working of NLP chatbots can be broken down into 3 different steps. They are
· Natural Language Processing
The AI-enabled Chatbot evaluates and processes each query from the customer end. This is the first step that takes place just before the bot responds.
· Natural Language Understanding
After processing the language, the next step starts when the Chatbot tries to understand and decode the user requirement. It is a less time consumption job and artificial intelligence enhances the processing speed.
· Natural Language Generating
The Chatbot now understood what exactly does the customer needs because it processed the input, understood the query and now it is the time for the bot to respond with the most appropriate response. And the process at which the AI-enabled Chatbot provides its users with accurate responses is known to be Natural language Generation.
Industrial application of chatbots
· Chatbot in Travel and Tourism Industry
The travel and tourism industry has got revolutionized after chatbots being introduced. It provided customers with various facilities. Leveraging various features of chatbots, one can easily simplify different multitudes of his tour planning varying from flight booking, Hotel Booking to activity booking, tour planning, etc.
· Chatbot in Banking and Fintech
Chatbot in the banking and Fintech industry serves as a virtual assistant for its customers. From various day-to-day banking activities such as account creation, business loans, personal loans and many other queries, Chatbot act as a unique and perfect solution.
· Human Resource Chatbot
With the invention of Chatbot, revolutionized is the human resource and related industry. Various processes in the HR industry got streamlined and standardized. From hiring candidates to reviewing their monthly and annual performance and maintaining their attendance register, leaves and other HR concerns, Chatbot act as an impeccable solution.
· Customer Support Chatbot
Customers are highly sensitive and business can't make them feel offended as it affects the brand reputation. So the process of handling customers has to be dealt with with high professionalism. Many businesses fail miserably at this point because they fail at satisfying their customers whenever they need proper support. A Customer support Chatbot can be made use of in this scenario to effectively handle customers without them feeling offended.
· Lead Generation Chatbot
For a business to grow, it should ensure that there is a quality amount of lead flow happening. The prime duty of a lead generation bot is to make sure that it generates enough leads for a business. Not only has that, but a lead generation bot also nurtures a lead, moves the prospectus down the sales funnel and makes it a potential customer, thereby helping the business in generating fruitful business and revenue.
· Chatbot in the Retail Industry
As the retail industry holds a huge potential, integrating a Chatbot on top of it can help you generate more business. As customers need everything in a blink of an eye, only with the help of a Chatbot that retail can make them stay engaged. Chatbots engages the customer on your retail website or other platforms, suggests them with the right product and leaves a pleasant feeling within them. Many retail giants started using chatbots to take their business to the next level.
· Chatbot in Educational Sector
Chatbot in educational sectors helps students in offering hassle free ways of dealing with various procedures throughout their academics. It also helps students as well as their parents throughout their admission procedures.
· Restaurant Industry Chatbots
The restaurant industry is one of its kind where the business owners have to deal with various customer queries before confirming their dish. A Chatbot integrated into the same helps restaurant owners by showing them hassle-free ways of running a successful restaurant business. It offers an excellent user experience by clearing all their queries regarding various dishes and menu.
Why your business needs a Chatbot?
Offers outstanding user experience
Streamline day to day business operations
Enhances hassle-free ways of running a business
Keep up your business on top of every trend
Enhances customer loyalty
Reduces Man Power
Best Chatbot Development Company
We hope you had a detailed idea of chatbots, its classification, and the industries it is applied to. Now it's your turn to decide if your business needs a Chatbot or not. In this tech-savvy world, it is no doubt that Chatbot is a mandatory requirement for a business to succeed. Your search for the best Chatbot app development company ends figuring out DxMinds Innovation Labs. DxMinds, the industry leaders have hands-on experience in developing AI enabled chatbots as well as normal chatbots regardless of their industry. High proficiency and mastery over various technologies made DxMinds one of the leading chatbot development companies that deliver its potential services all across the globe.
For a free consultation on how Chatbots can abrupt your business, write to us: info@dxminds.com