February 3, 2021
Posted by:

Admin

Category:

Outsourcing and Offshoring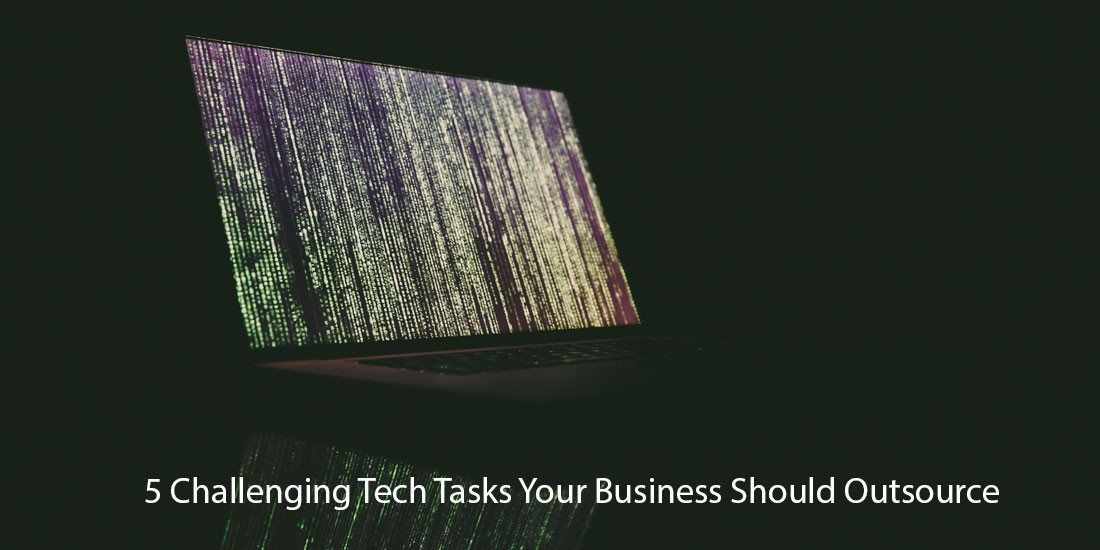 Not all entrepreneurs are equipped at tackling each and every tech-related task that's required to scale their business. Often, it's cheaper and more efficient to hire outside help instead of spending time and money to develop the talents who can perform these tasks internally. These are just some of the reasons why outsourcing is thriving across the world, especially when it comes to tasks related to emerging technologies.
Here in the U.S., the lack of in-house tech professionals is contributing to why data scientists, information security analysts, and mathematical scientists are among the fastest growing occupations around. With that being said, the good news is that even the most challenging tech tasks that you can't handle yourself can be outsourced to external pros.
Analytics
Modern analytics involves the collection, organizing, and analysis of business data for actionable insights. Although data crunching platforms are getting more accessible and user-friendly every year, nothing beats having an expert data scientist/analyst by your side.
Recently, companies like Google and IBM have launched their own online data analytics career certificate courses and other programs aimed at addressing the growing demand for business data analysts. Whatever your industry, tapping into the current and next generations of data scientists can help in optimizing even the most complex operations and systems.
Cybersecurity
Alongside analytics, the field of cybersecurity is also rapidly growing to meet increasing industry demands. Prompted by massive hacking incidents at the end of 2020, this sector of tech increased by 6.7% in the stock markets in December – the tail-end of an almost year-long upward performance. Following the digital migration of industries, this underscores the rapid increase in the demand for cybersecurity professionals. Unfortunately, high demand also translates to a shortage of cybersecurity experts, which means that you might fare better at outsourcing instead of hiring a full-time team for this key business task. Furthermore, outsourcing will also give you a flexible contract, which will allow you to react to changes and threats as they come.
Digital Payroll and Accounting
Easily one of the most complicated set of business tasks, digital payroll and accounting processes are also the most essential for any new business hoping to scale quickly. With the emergence of cloud-based software, automation-enabled accounting platforms, and other fintech tools, both new and veteran accountants can typically function as financial advisors as well.
With that being said, the availability of these tools has in no way lowered the demand for financial experts with advanced training in accounting. This is particularly true today, as the digital migration of education has enabled the rapid advancement of training in this field. The demand for good accountants means that many freelance accountants will have got their degrees from an online course. In Maryville University's career overview for graduates of its online bachelors in accounting, the school identifies how graduates will study financial reporting, forensic accounting, ethics, auditing, income taxes, accounting information systems, and advanced managerial accounting. The result of this is that those who are brought on to do the digital payroll and accounting will be able to cover many different areas of finance.
This means that outsourcing the services of such professionals will be significantly cheaper than hiring them full-time, even compared to other in-demand professions. And just like your cybersecurity status, knowing that your payroll and accounting is in good hands can ease business anxiety and allow you to focus on your own specializations.
Software Programming
With the digital transformation of the planet being an inevitability, it is a fact that coders run the world. Despite the popularity of software programmers, they remain to be a comparatively scarce resource in today's software and tech startup-obsessed markets. For this reason, there's no shortage of offshore companies that specialize in providing software programming services.
These companies can help you create, develop, deploy, and continuously improve your internal intranet platform, ERP system, and any other business essential software. Outsourcing these highly technical tasks is actually a common practice, even among tech startups looking for backup developers.
App Development
While software programming is all about coding, quality control, and systems improvement, app development is all about optimizing design, branding, and user experience. Due to the fast evolution of apps, not all businesses are equipped to stay current in terms of the trends, functions, features, and other essential aspects of app development.
While outsourcing your app development can be expensive, it's a surefire way to translate your business vision into an engaging app – minus the headaches of tackling the combined tasks of marketing and software development. An outsourced app development team can be a powerful boost to virtually any business model.
Outsourcing can be a powerful tool for achieving your immediate and long-term business goals.
If you're interested in outsourcing any of the aforementioned tasks, tell us what you need – we can help you get in touch with the right talents.