Top React Native development company in India
We are DxMinds Innovation Labs, the best product engineering company. We have an enriched global customer base as our services go above and beyond borders. We are headquartered in California, USA, and have a physical presence and corporate offices in regions like the UAE, Australia, and India. Over the years, the quality services we rolled out have helped organizations in ramping up their end to end operations in the best possible manner. The services we deliver precisely get into addressing your pain points and help you tackle them in the most efficient manner.
Being the top react-native app Development Company in India, our mission is to serve our customers to the fullest, so that they can thrive hard like anything in this tech-savvy era. We keenly focus on rolling out the top of the line react native app development services in India that on a high level meet and greets wholesome of customer requirements. We leverage state of the art technologies while carving out full-fledged react native app development services. We uphold a team of profound technologists who are capable of seamlessly scaling up their skill sets and experience when it comes to meeting the customer necessities.
Hire Dedicated Developers
Cherry-picked React Native developers right for you
Our team composed of developers and engineers who come with profound industry experience. With their proficiency and skillsets, they can seamlessly come up with adoptions that address your complex business challenges and offer solutions that are perfect to tackle these challenges. By associating with DxMinds for hiring top React Native app developers in India, you are ideally making yourselves free from all headaches you have to take care of otherwise. Our proficiency lets you build a full-fledged react native mobile app in India right from scratch with which you can ace the competition existing in your respective domains.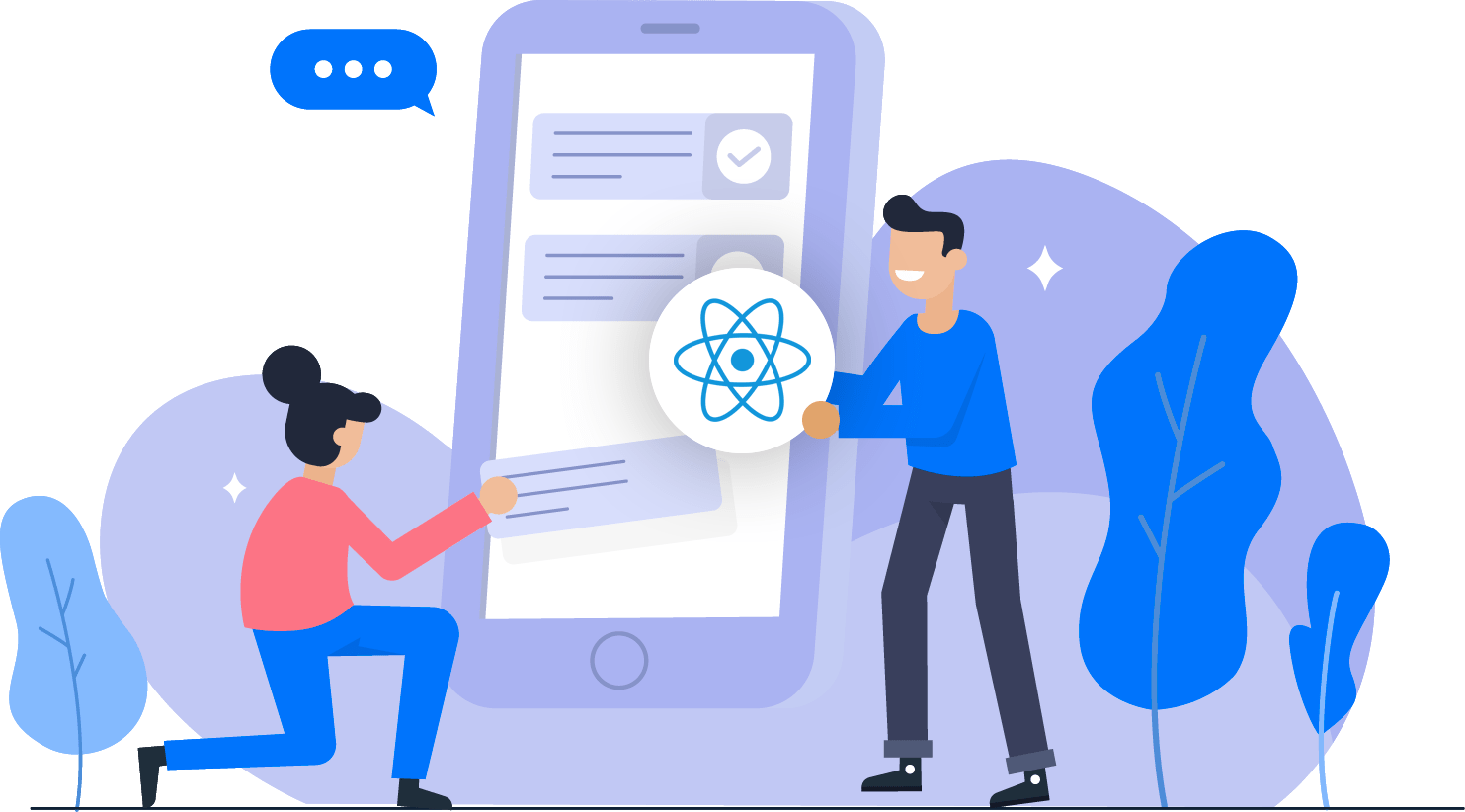 Earth biting react native app development services
Your search for the most reliable react native app developers in India ends up figuring out DxMinds Innovations Labs. We are always aggressive in listening and delivering what the customers are exactly looking forward to having. Our mobile app development services let you in having the perfect-edge over your operating markets, no matter what. We leverage the latest development approaches, methodologies, tools, and stacks when developing react native mobile applications. The benchmark we set up in terms of quality, technology integrations, and on time delivery has helped us in being the top react native app developers in India.
Our react native app development approach
Our approach towards developing a futuristic react native mobile app holds a high degree of potentiality and it is subdivided into various stages.
Ideation is the initial stage that takes place prior to the development process. At this stage, the customer pitches to us their rough, unpolished idea, which they want to give life to. Our team of in-house mentors and technologists scrutinizes these ideas by conducting various rounds of brainstorming sessions that they can land upon one that is one of its kind.
We carry out end to end market research to analyze the market trends in depth. By doing so, we can understand the market pulse and strategizes the development process in such a way that it matches perfectly with the exact thing that customers are looking forward to having.
To have the hands-on top of the market, and to understand the gaps that existed in the space, we conduct enhanced market research. This helps us understand the key players in the domain which can be utilized to deliver services that outpace the current trends.
Once everything is all set and good to go, we proceed with the development process. At this stage, we integrate state of the art technologies like Artificial Intelligence, Machine Learning, Blockchain Technology, etc.
We use a wide array of testing procedures to perform both manuals as well as the automated testing process. We have our futuristic testing labs set across various parts of the country. Our resources are the best when it comes to figuring out and fixing bugs at the earliest possible.
Deployment is all about airing the app to the respective app stores. We carry out this task with the utmost care and attention paid in detail as even just a minute error can impact the process in a harsher manner.
The process of app development is not done with its deployment. Else, it needs to be maintained thoroughly to ensure proper usability and sustainability. At DxMinds, the best React Native app Development Company in India, we help organizations in getting rid of all bugs and errors that stop them from being successful by delivering top of the line maintenance services.
Enterprise app development
React Native has got a wider application when it comes to an enterprise point of view and to put that in perspective, we help you hire top react native developers in India. Our team of developers rolls out services that help you target the precise set of audiences and let you stay ahead of the race.
Custom React Native app development
We are the best digital transformation agency when it comes to developing custom react native mobile apps in India. Our app development process is a perfect mixture of art, creativity, and technology that helps you bring more value to the table.
React Native consultation
we help businesses in exploring the real potential of react native app development by offering end to end consultation. Our consultation process makes you fit for the global market entry, no matter what.
We offer full-fledged react native app maintenance and support services for global businesses for them to get rid of all hassles and bustles.
Porting and migration services
With our React native porting and migration services, businesses can experience in real what the best react native app development services can have on their business frameworks.
Why preferring more of React Native these days?
The demand to react native app development is skyrocketing gradually. Organizations prefer cross-platform app development leveraging React Native over native methods.
React Native mobile apps are highly economical and reliable when compared to any other hybrid mobile app development platform.
The react native community is highly stable and resourceful that seamless support will be delivered at all times.
React Native mobile applications can deliver optimal performance and the user interface of react native mobile applications are the best in the segment.
The apps developed leveraging react-native platforms are much stable and seamlessly supports third-party plug-ins.
Our resource hiring models
Offshore development center
Our Offshore development centers have gained huge traction over the years and have helped organizations in availing top of the line services over time. It is designed in such a way that the customers are able to make the most out of it. Under this model, we seamlessly supply you with resources that can scale their levels up to meeting your project requirements.
Build operate and transfer
The BOT engagement model is classified into three phases. The build phase consists of building everything from the scratch, the operate phase which ensures flawless operation of the system, and the transfer phase at which the legal ownership of the system gets transferred to the respective customers.
Turnkey Co-owned Project
The turnkey and co-owned projects are also known as the fixed cost model. Under this model, the development cost and time frame will be fixed. This helps our set of customers in availing full-fledged services at a flexible pricing structure. Usually, this engagement model comes with resources charged on an hourly or on monthly basis.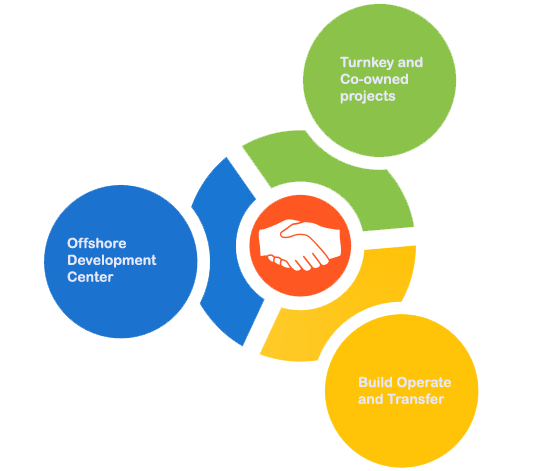 Frequently Asked Question's