June 28, 2023
Posted by:

Admin

Category:

Software Development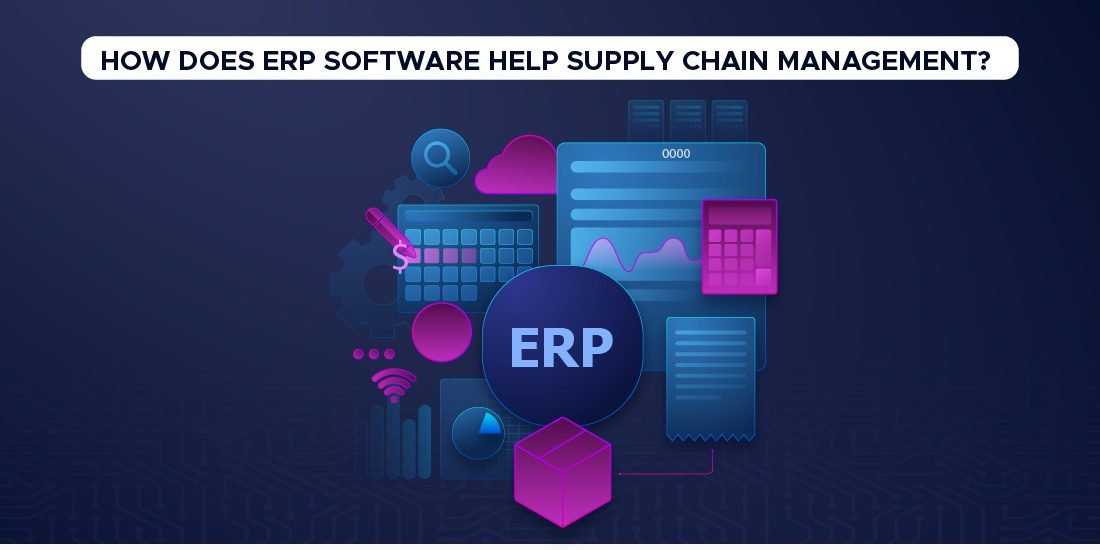 How Does ERP Software Help Supply Chain Management?
The supply chain is the most active and essential process of any business. A well-organized and flawless supply chain management plays a vital role in determining business growth. As the business grows, managing a supply chain with manual efforts will not be a practical approach. Doing it manually drains resources, time, and money. It can be tedious and cumbersome as well. So how can one get rid of this? It is at this point that businesses can leverage Enterprise Resource Planning (ERP) softwares to manage the supply chain effectively. Enterprise Resource Planning softwares in supply chain management helps companies manage daily operations. From product manufacturing to distribution, an ERP can streamline organizational processes by ensuring resource availability, timely order completion, cost savings, proper resource utilization, etc.
In this blog, let's see more about the role and importance of ERP in supply chain management and how businesses can make the most out of it.
What is a supply chain?
In an organization, the supply chain is a system of the businesses' day-to-day activities. It consists of a collection of raw materials, manufacturing, and then distributing the final product to the customers. This can vary based on business type and category. However, every supply chain's primary goal is to efficiently and quickly satisfy user requirements. A supply chain has to be properly handled by considering many factors to achieve these goals. Some of these factors consist of raw material supplies, transportation, production capacity, inventory, and warehousing. Since managing these aspects might be challenging, businesses make use of Enterprise Resource Planning softwares with the help of top ERP software companies in Bangalore.
More about enterprise resource planning (ERP) softwares
ERP has many advantages for supply chain management. The main advantage is that it automates numerous tedious tasks to build up an organization's supply chain management. ERP softwares can help companies in managing their essential activities. It helps businesses gain more visibility to their internal operations thereby helping them reduce expenses and make more informed decisions. Enterprise resource planning (ERP) software makes it easier for organizations to run their day-to-day operations efficiently. ERP systems give businesses visibility into every area of their operations, including manufacturing, shipping, sales, invoicing, etc. It can also track inventory levels, sales orders, and production information in the context of supply chain management (SCM) to estimate future markets and improve manufacturing plans.
Get a Quote
Role of ERP in supply chain management
ERP plays a key role in ensuring the proper running of Supply Chain Management, which is a sophisticated commercial procedure ranging from production to delivery of products. ERP in supply chain management helps businesses in managing various accounts such as vendors, logistics, strict deadlines, numerous order deliveries, etc. It reduces human intervention which reduces errors that cause flaws in the system. ERP in supply chain management also comes with features like order scheduling, real-time reporting, team collaboration tools, analytics, security, etc., which can make business operations flow like a well-oiled engine. Following are the role of ERP in supply chain management.
Planning
With the help of ERP, businesses can easily determine the quantity of materials required, products, and resources. An ERP in SCM automatically generates supply and demand predictions using recorded and real-time data.
Material Requirements Planning
Purchasing materials and selecting suppliers, distributors, and manufacturers are essential for supply chain management. An ERP system with Material Requirements Planning (MRP) features stores and synchronizes vendors, raw materials, and other data with the resources needed for manufacturing.
Production
Supply chain management requires managing organizational resources across manufacturing lines and assigning tasks accordingly. By keeping an eye on all production-related data, such as purchase orders, requisitions, and manufacturing, an ERP system helps organizations manage production in a hassle-free manner.
Delivery
For supply chain management to be effective, shipping, logistics management, and related activities have to be in place. ERP softwares help businesses tack. An ERP system with DRP (Distribution Requirements Planning) capabilities monitors shipments, displays the number of items carried, and integrates support and shipping to improve delivery efficiency and timeliness.
Finance Management
Finance management is another important aspect of supply chain management. An ERP system helps businesses manage their day-to-day financial operations in a hassle-free manner. It keeps a regular track of debit and credit payments up to date to avoid all possible bottlenecks.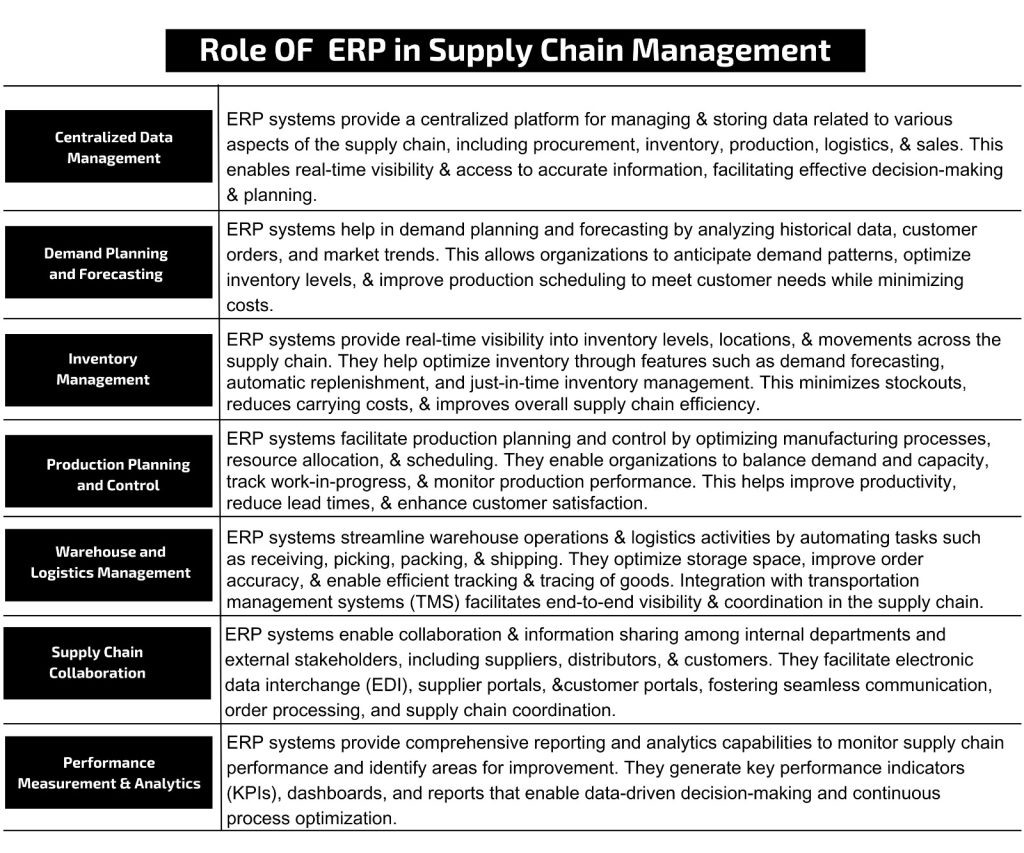 Impact of enterprise resource planning on supply chain management
Listed below are a few ways that ERP can enhance supply chain management:
Reliable Processing
With ERP software, all supply chain processes can be automated and optimized. This helps businesses in improving their operational efficiency and reliable processing. Once a product is delivered, the ERP instantly generates the bill. Also, ERP can generate import and export documents required for foreign shipments that will help businesses save potential time.
Ensuring Timeliness
ERP softwares help businesses reduce costs by streamlining the entire processes. The ERP integration in Supply Chain Management helps save the effort and time resources need to invest to get their jobs done. The ERP software assists employees of an organization effectively by helping them in developing strategies to expand business verticals. This boosts timeliness in the delivery of services and products.
Easy Collaboration
With the help of ERP and SCM integration, communication between various teams and departments is made easy. Also, it makes the process easier by giving access to data that helps in easy decision-making. This guarantees that the supply chain activities of the business are successful.
Increased Visibility
ERP software can help the organizational team with a complete, real-time view of business processes, allowing them to identify inefficiencies and gaps that exist. With these data, decision-makers can implement and deploy strategies to overcome the limitations.
Real-time Reporting
Manual data collection and reporting come with huge drawbacks. It can be time-consuming and prone to a high degree of errors. Possibilities are there that it can increase the chances of decisions made based on inaccurate data. Organizations can make use of the business intelligence part of an ERP, particularly at the time of real-time data and reporting, as they have access to critical data about their business and supply chains. This set of streamlined data can be used to make better decisions and boost operational efficiencies.
Vendor Performance
Enterprise Resource Management gives organizations more visibility to vendor management. This makes it simpler for manufacturers to evaluate the quantitative and qualitative features of respective vendors.
Cloud Features
Cloud ERP softwares are gaining huge popularity these days. The key benefits of cloud ERP are mobility and dedicated data security systems. As cloud ERP solutions can be accessed from anywhere, they can enable faster action, benefiting the supply chain's overall performance.
How to choose the best ERP for supply chain management?
A wide range of ERP softwares is available in the market right now. Software developed by the best ERP development companies in Bangalore, Mumbai, India can help meet business requirements. However, it's crucial to check the features and solutions offered by this softwares. The following are a few factors to consider before selecting an ERP system:
Ease of Use
Go for an ERP solution that is free from all sorts of complexity when it comes to using it. A simple ERP is easy to use by all users across various departments, from manufacturing to shipping and delivery.
Ease of Integration
ERP solutions should come with easy integration with your SCM. This means you don't have to alter any of your existing processes, but just add a bit of digital transformation to them.
Cost
ERP system and its maintenance should not cross your budget allocation but still has to fulfill your organizational requirements. It should meet your ROI within the defined time period. So it is important to check the costing part.
Data Model
ERPs and SCMs that use the same data model have a single source ensuring data accuracy. Deploying a consistent data model will save your team valuable productivity hours.
Cloud-based ERP
Cloud-based ERP solutions consolidate all checkpoints of a supply chain by making all the business operations and data accessible regardless of the time and location.
DxMinds Innovation Labs- The Best ERP Software Development Company
If you are a business looking to integrate an ERP system or update an existing one, you will definitely need the support of top ERP development companies. DxMinds Innovation Labs, a leading digital transformation and technology company can help business owners develop custom ERP solutions based on their business requirements. DxMinds is an ISO 9001: 2015 certified company that has global presence and innovation labs in countries such as the USA, India, UAE, and Australia.
Conclusion
Integrating ERP software in supply chain management has many advantages. Enhanced return on investment, boosted visibility, better account management, etc. are a few. It is no doubt that ERP in supply chain management can significantly boost your company's productivity and profitability. So businesses should consider integrating ERP systems into their organization to leverage the advantages of the digitalization they offer.
Book a Free Consultation