Hire RPA Developers in India
Need to automate your business activities and willing to make the bots as intelligent as your human resource? Hire the best RPA developers from DxMinds to harness the potential of robotics in your business procedures. We assist you to streamline your business operations and enhance the efficiency with the most effective robotic process automation. We have the top professionals of the relevant industry which are handpicked by rigorous filtering, having vast experience in the relevant industry. We are deeply dedicated to offering innovative and customized solutions making the RPA development a ladder of success for you.
We make sure to penetrate deep inside your business objective and come up with the most customized solution that satisfies each of your business requirements empowering it with a prominent solution. Our team is boosted up with certified professionals and hiring our RPA programmers will ensure a thriving solution for your business.
Hiring our RPA developers will ensure:
Hire Dedicated Developers
Scale-up your business with a prolific team of DxMinds:
Onboarding our professionals and give a sky-high approach to your business with the best RPA solution. We have certified professionals in our team that are potent enough to suggest to you the most innovative ideas to incorporate in your business solutions.
Our developers have attained mastery in various software development tools that enable us to develop an extraordinary solution at the most affordable prices. We have set an unparalleled benchmark of quality and innovation and have attained a giant number of happy client bases.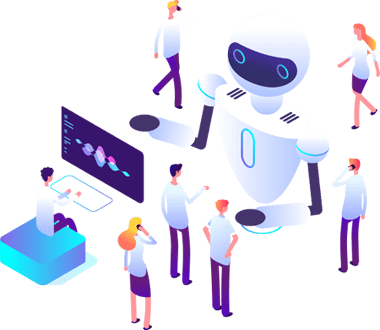 Our RPA development solutions endorsing your business are:
Every business idea has got several opportunities but which one will prove most beneficial can be identified only by the top professionals. Hiring our RPA developers can strengthen your business procedures making it a winning strategy for you. Our expert services are listed below:
Our experts conduct a deep analysis of your business that includes business objectives, customers, market trends, and many more. Based on the deep analysis output we plan a prominent strategy for your business development. Our experts identify the most effective tools and technologies that can be beneficial for your business development and assist you with a detailed road map for your business development.
Intelligent Automation Design
Want to map out your manual procedures into automated ones with an exceptional approach for business development? Our RPA development experts will assist you to identify an intrusion model that fits your business requirements by automating the required procedures. Hiring our RPA programmers will simplify your RPA designing task and help you out with the most prompt designing.
Our Robotic Process Automation developers are well equipped with various tools used for RPA application development, such as UiPath, Pega, etc. We ensure to develop the RPA solution bug-free by testing it at various basic and intermediate stages of development and making it the best tool to scale your business and reaching out to your objectives.
Infrastructure & Automation Support
We offer comprehensive support for your RPA maintenance round the clock. Either you need to automate your new business process or willing to upgrade your existing RPA model, our experts are always at your assistance.
Bot Development & Support
We have gained vast experience in serving various enterprises with the most prominent bot development solutions. We assist you in managing various business processes by automating it and enabling your business operations to run automatically without any manual assistance.
We ensure to embed the RPA solution effectively into your business procedure by configuring the CoE effectively. We offer the most comprehensive support in designing, developing, and deploying the best solution for your business development.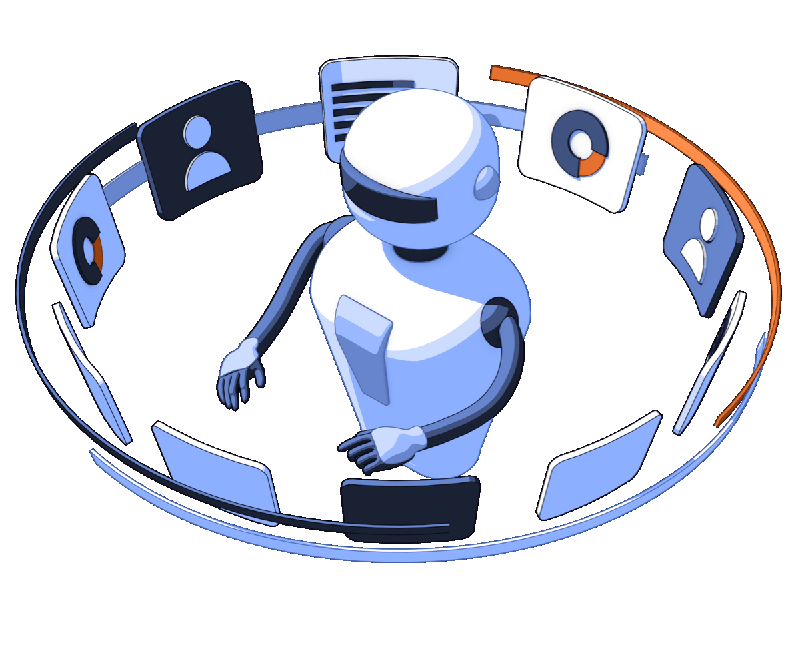 Benefits of incorporating RPA solution into business:
The ultimate objective of incorporating an RPA solution in a business operation is to automate several tasks and bringing perfection to the business process and achieving objectives seamlessly. Apart from this, there are many more aspects that you can avail from RPA development; a few of those are listed below:
• Better scalability to the processes
• Cost-effective
• Accelerate speed and accuracy
• Enhanced employee experience
• Deep insights
• Swift marketing
• Compatible with several platforms
• Easy maintenance
What makes hiring RPA developers from DxMinds the right choice for your business development?
With the continuously growing competition in the business world, you require the best team that can assist you in developing a thriving and top-notch robot process automation solution to automate your operations and attain 100% efficiency in it. Hiring RPA programmers from DxMinds have proven a profitable decision giving them the best and out-of-the-box end product. If you are looking for the most potential reasons for hiring dedicated RPA developers in India then DxMinds offers a plethora of reasons that are essential for unsurpassed software development.
Knowledge of existing technology
In this rapidly changing world, technological change is also at a swift rate. Our professionals are deep-rooted in the robot process automation technologies right from the most basic level to the most advanced level of technology.
Various processes of your business can be automated using robot processing. Our experts assist you to map your major processes from manual to automation.
Business process expertise
Our teams not only have attained expertise in software development, but we also have attained proficiency in analyzing businesses and market trends too. Our experts conduct a deep analysis to understand your business processes and streamline it based on your business objectives.
Microsoft .Net is one of the most common frameworks used for RPA development. We have professionals with a deep knowledge of various coding languages along with Microsoft .Net, that are required for the prominent RPA development. Our RPA developers also have excellent command over SQL, HTML, CSS, JavaScript, Python, and more required for making the development more effective.
Well familiar with the technological environment
The technological environment differs from company to company based on their business objectives and the targets set by the company. We try to incorporate most of the innovative ideas into your business operations but each idea is completely intended to boost up your existing ideas leveraging the latest RPA technologies.
Our professional developers are highly skilled with machine learning and artificial intelligence that assist us to deploy automated tasks. Tasks of RPA bots widely depends on the data analytics for automated tasks, transforming complex and unstructured data, understanding variables, and many more. Our highly qualified RPA developers are well equipped with data analytics and can serve you with the best solutions.
API integration plays an important role in enabling the system to work efficiently. To do so, the developer must possess excellent knowledge of XML and XSD. Our developers are highly skilled with the mentioned technologies and advanced REST API and SoapUI that makes our team more prolific for app development.
Hiring models that make a perfect team for your development
Offshore development center
Need to set an offshore development center in India where you can find talent pool and creativity together at affordable prices? DxMinds is here to assist you with the most prolific team with a flexibility to scale your team and work environment. We intend to serve you with an unmatched solution to extend your team overseas without altering your work strategy and without degrading quality.
Build operate and transfer
This model is further distinguished into three phases. Under this model, we develop a software right from scratch to end. The first phase deals with the development of the software, then in second phase of operating the developed software we educate your team to operate the software effectively enabling them to make maximum out of it. In the last phase of transferring the ownership, we completely handover the project based on the conditions mentioned in the pre-determined agreement.
Turnkey Co-owned Project
Under this model, we offer a particular number of resources for your software development based on your requirement. Every resource can be hired on hourly, monthly, or timely basis.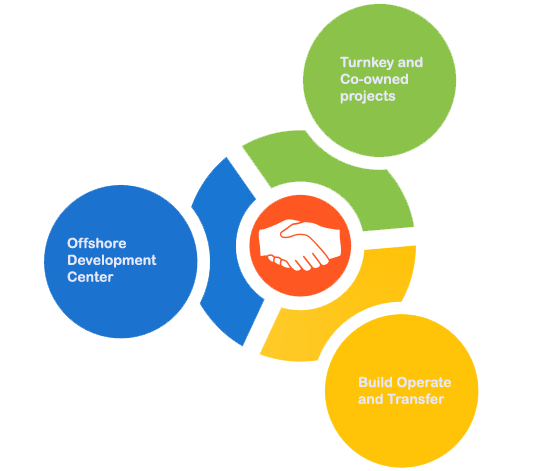 Frequently Asked Question's