Hire top mobile app developers in Norway
We are DxMinds Technologies, a profound product engineering, and resource augmentation agency in Norway. We help business entities wide spread across the globe in achieving their key milestones thereby making them fit to outpace the high-level of competition in this tech-savvy era. Our profound and precise services have helped organizations in outreaching their goals with minimal effort and time. What makes us separate from other resource augmentation agency in Norway is the quality we maintain while helping you hire mobile app developers in Norway.
Our mission is to deliver quality services that matter to our customers in an uninterrupted manner. We are a team of highly talented technologists, software developers, testers, designers, and maintenance engineers. We collectively work towards addressing your complex business challenges and rolls out the top of the line services that help our customers in surpassing those challenges. Our highly customized services help you in generating fruitful business, all year round.
Hire Dedicated Developers
Top of the line resources for achieving your goals
Our vision is to make your business fit enough to make its global market entry a seamless process by helping you hire certified mobile app developers in Norway. We have wide access to the pool of enriched resources where we can make you avail of services from the top of the line developers who can precisely meet your organizational requirements in the best possible manner. The developers you hire from our talent pool are onboarded as a result of intensive rounds of interviews. They love hooking up to new challenges, addressing your core business operations. By hiring on-demand mobile app developers in Norway from the house of DxMinds, you are letting your business take its flight beyond your expectations.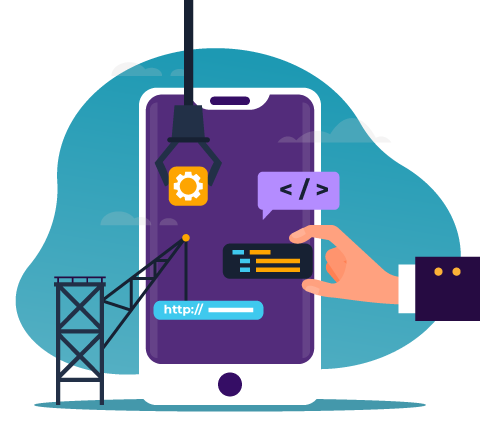 Best mobile app developers in Norway.
The resources we hire for you comes with notable industry experience and domain authority. They are the cherry-picked resources your business required to make it a massive hit. They supply you with all mandatory requirements in the most productive manner that your business can thrive hard in this competitive world. The services they roll out are agile, robust, and unique to the core. One will find it hard to avail of services that are as accurate as the services imparted by our resources.
Our Mobile app development services
For your business to get in parallel to the latest trends and happenings in the tech space, we help you hire top Android app developers in Norway who are capable of delivering out the most accurate solutions. The services departed by our resources are so profound that they go above and beyond the customer expectations in a seamless manner.
iOS mobile applications are helping businesses reach out to a massive potential of audiences and to put that into perspective, we help you hire on-demand iOS app developers in Norway, who not only delivers the best in class services but plays a key role when it comes to scaling your business to its fullest.
The handful of advantages put forward by the hybrid model of mobile application development has made it everyone's cup of tea. We help you avail of full-fledged hybrid app development services by hiring dedicated hybrid mobile app developers in Norway. Futuristic development methodologies and practices put into practice by our resources make the process an innovative one.
Unmatched services rolled out by our top of the line resources when it comes to implementing innovative and customer friendly UI/UX designing makes your business a notable on among the potential set of its customers. We help you hire on-demand app developers in Norway.
We offer end to end mobile app development consultation so that your business can excel seamlessly in this tech-savvy era. The services thus departed come with all the mandatory ingredients that make your business a standalone one.
Enterprise app development
The enterprise mobile apps we develop for your organizations uphold a high degree of accuracy and flexibility. It mixes and matches precisely with your organizational requirements and makes your business a full-fledged one.
Our maintenance engineers are the best when it comes to offering a futuristic level of maintenance services for your business. It not only helps you in making your business a standalone one but also help you in nurturing your customer requirements to their fullest. Also, it helps you in ensuring the flawless operation and usability of the mobile app so that it will not affect your users.
Customized mobile applications can have a larger impact on business frameworks as they let businesses scale exponentially. The top of the line services thus departed play a key role in making your business a potential one.
Why hiring DxMinds app developers in Norway?
One will find it hard to figure out resources that are as flexible as resources offered by DxMinds Technologies. We analyze your business frameworks in detail and then quote the pricing structure that is highly competitive and economical. We help you hire economical mobile app developers in Norway.
When it comes to having mastery over the state of the technologies like Artificial Intelligence, Machine Learning, Blockchain Technology, etc., and to implement it in the most productive manner, our resources are the best.
Being the pioneers among the best mobile app development companies in Norway, we help you hire resources that are reliable to the core. It let you stay ahead of the race and make your business operations smooth and flawless.
The high degree of flexibility put forward in the development process makes our resources the best. Also, the flexibility offered from our end makes the resource hiring process a productive one. You can easily scale up and scale down the team based on your requirement when it comes to hiring resources from DxMinds Technologies.
Hiring models that make a perfect team for your development
Offshore development center
The Offshore development centers or ODCs are our highly flexible engagement models that offer a handful of advantages to our customers. Under this model, we help you hire resources as per your requirements. With the offshore development centers onboarded, you are free from all kinds of activities such as resource hiring, augmentation, training, etc. Our ODC model helps you save about 40–45% of the development cost when compared to the traditional approaches.
Build operate and transfer
The Build Operate Transfer engagement model is a sure shot for businesses that are looking for projects that consume an indefinitely longer development period. The entire engagement model is classified into three phases, as the name suggests, build, operate, and transfer. The build phase comes with building everything from the scratch, the operate phase is all about ensuring flawless operation of the system and the transfer phase is where the transfer of ownership of the system to the respective clients takes place.
Turnkey Co-owned Project
The turnkey and co-owned projects are also known to be a fixed cost model. Under this engagement model, one can get rid of all hassles and bustles that separate their business from being a successful one. By associating us with the fixed cost model, you are given a highly competitive fixed cost by analyzing all of your business aspects. The math is done based on the scope of the project and the resources are charged on an hourly or on monthly basis.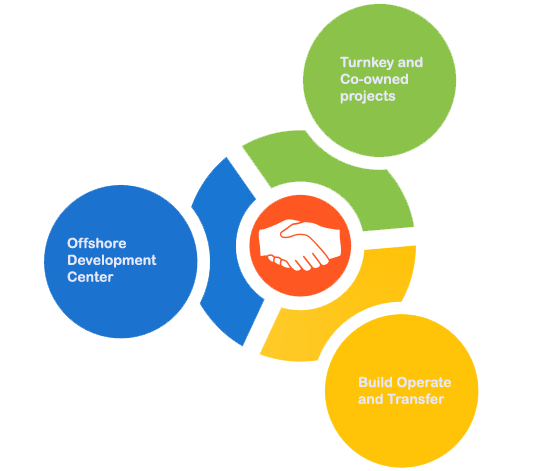 Frequently Asked Question's