Hire full stack developers in Ukraine
To reshape your business operations and streamline them into an app, hire full-stack developers in Ukraine. We are DxMinds, the top product engineering, and resource augmentation agency in Ukraine. With the experience of a decade, we have gained mastery and prominence in developing the most promising app and have been crowned as the leaders of this industry. We help you revamp your organizational frameworks with the best utilization of the latest digitalization methods and frameworks. Our services are agile, robust, and go above and beyond customer expectations.
As we are the top digital transformation company in Ukraine, we help you hire top full-stack developers in Ukraine to seamlessly meet your organizational requirement in the best possible manner. We have an enriched resource pool deep-rooted with the latest technology, master hand over the latest tools. We facilitate you to hire dedicated full stack developers in Ukraine from our talent pool to eliminate all the hassles and bustles from your business operations. Our mission is to empower various businesses regardless of their industries with the state of the art technologies and best development practices that can make their global market entry seamlessly. Our resources come with profound industry experience and uphold a wide array of skill set that makes them seamlessly level up as per the project requirements. The services you avail by hiring certified full-stack developers in Ukraine from our resource pool are futuristic and hold a high degree of creativity factor.
Hire Dedicated Developers
avail full-fledged services fromour potential resources
Our mission and vision are to make you thrive hard in this tech-savvy era so that you can surpass all the hurdles productively. We intend to leverage the best access to technology and make it available for all types of enterprises ranging from big to small so that they can leverage it to take their business to the next level. Hiring full-stack programmers at DxMinds comes with an enhanced filtration process that aims only for the right talents to get onboard. Being the top resource augmentation agency in Ukraine, it is our responsibility to make sure that our customers are given the right talents for meeting their technology requirements.
hire on-demand full-stack developers at the best prices
One size fit fits all will never work to attain the different business objectives. The ultimate aim defines the requirements and so the resources too. We understand how important it is to get the right talent onboard to bring your business ideas to this vital world. Figuring out the best resources can be a herculean task at times, especially when finding out the one with profound experience.DxMinds is here to assist you with the easiest way to reach out to the most productive and skilled resources to help you buildthe most empirical digital solutions.Our resources ensure pushing the creativity and productivity beyond the expectations and serving you the best and out of the box solutions.
Our full-stack development services
Full-stack web app development
We help you hire top full-stack developers in Ukraine who are capable of delivering top of the line web app development services that fits the best for your business frameworks leveraging the best application of full-stack. The full-stack web development services departed by our resources go above and beyond the customer expectations. It helps you bring more value to your business ideas and thereby enhancing your opportunities of reaching out to a potential set of customers in a productive way.
Full-stack mobile app development
We help you in availing the benefits of world-class mobile app development technologies by leveraging the best development practices. Each practice is meant to make your business a standalone amid the crowd. Our mobile app developers in Ukraine have profound knowledge of app development and are deeply rooted in full-stack development technologies. To be more precise, we follow the pathways of technologies to come up with mobile apps that revamp your business frameworks, all for the good.
Full-stack enterprise app development
We help you come up with full-stack enterprise solutions that are capable of meeting your futuristic business requirements in a full-fledged manner. Our solutions are agile and robust. It comes with all the factors that help you scale your business like anything. In your journey towards being successful, all you need to hire our full-stack developers in Ukraine to attain the top of line services.
Custom full-stack development
Your business requirements are framed to attain your business objectives; hence you also need an app that is completely oriented to your business requirements having customized features. Highly customized full-stack development services help you in delivering a personalized customer experience and to put that into perspective, we help you hire resources who are not only capable of understanding your ground operations in detail but also play a key role in scaling up your business strategies and backing it up with the potential of digitization.
Full-stack consultation
We offer end-to-end full-stack consultation services that let you stay ahead ofthe competition. As our resources are coming up with futuristic services, it lets you avail services that are parallel to the global market trends, parameters, and guidelines. The precise services imparted by our resources elevate your business frameworks, regardless of their industry or niche.
Maintenance and support
To take your business to newer heights and to scale up your business with the changing market trends we offer the best and highly skilled full-stack developers offering the most promising services that go above and beyond your expectations. In an event where technology is revamping traditional business frameworks,our services offer the best solutions that you need to stand out. We help you hire on-demand full stack developers in Ukraine.
Technologies used by our skilled full-stack developers:
To develop dynamic websites and web applications, our professionals use Mean Stack which is open-source JavaScript software. It allows the developer to use four technologies at once that includes MongoDB, ExpressJS, AngularJS, and Node. Js. Hence, this technology helps our professionals to use it for server-side as well as client-side development.
This technology contains key components, i.e. MongoDB, Express, React, Node. Our developers are well-versed in all the languages and are capable of developing various elements of an app, such as document database, server-side development, client-side development.
If you need a single page CRUD app then Laravel and VueJs is the best technology used by our experts. To serve you with the best and most promising development services, our full-stack developers are highly profound with the PHP, Laravel, JavaScript, operations of PHP setup, and composer too.
We have developed ample of apps using .Net and Angular web forms. These technologies offer a wide range of app development options and our developers are well-versed in each tool, dependencies, and other TypeScript used for a swift and flawless development.
React and React Native andMongoDB
If you are looking for a hybrid mobile, then also hiring our full-stack developers is a one-stop solution for your search. We have top professionals having a master hand in React, React Native, and MongoDB technologies enabling them to develop the highest quality app.
The demand for Android app development is accelerating by every successive day. Our resources assist you in developing an empirical app scaled up with the features and functionalities.
React Native and Electron js
Now coding desktop apps are much simpler using react native with electron JS. Our experts are highly skilled with both the technologies developing preeminent apps using a single code base.
Java and JS (React/Angular) and Firebase
 Our full-stack developers are highly profound in core and basic Java enabling us to develop the most promising apps using J2EE, Angular, Spring, React, and Firebase too.
Why hiring DxMinds full stack developers in Ukraine?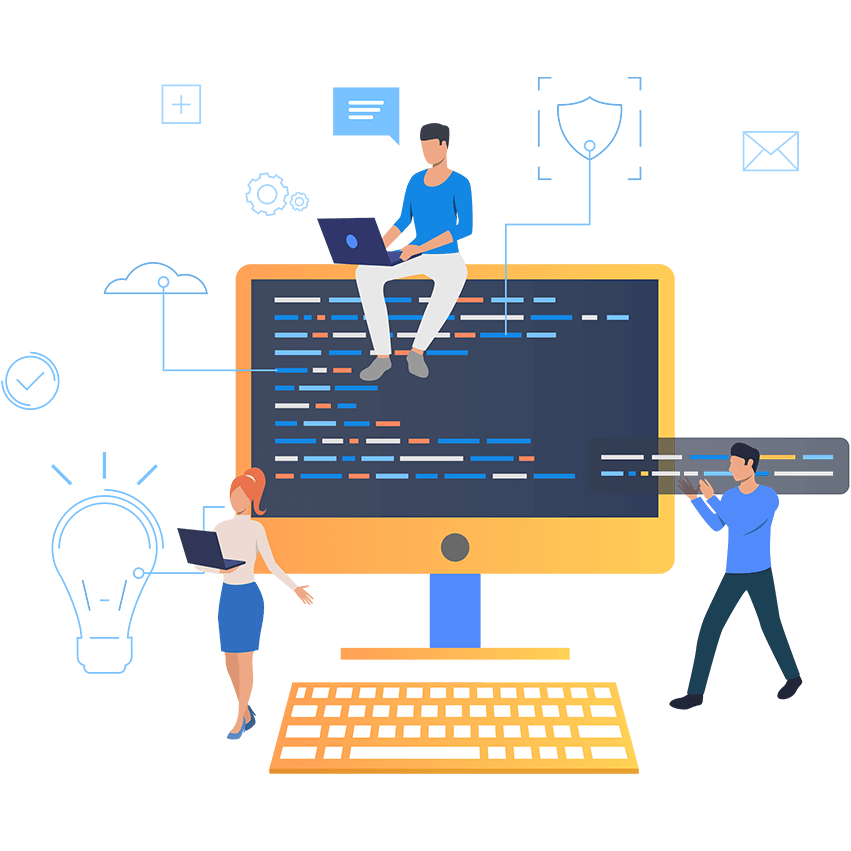 Your search for the economical full stack developers in Ukraine ends up figuring out DxMinds Technologies. We come up with a competitive pricing strategy so that our prestigious set of customers can make the most out of it. We are looking forward to building a trustworthy relationship with our customers that we never compromise a bit on the quality aspects.
One can rely upon our resources to their fullest as they love hooking up to new challenges to serve you in the best possible manner. Our resources are hired as a result of surpassing intensive rounds of interviews and the quality gets directly reflected in the services they depart.
When it comes to leveraging and integrating state of the art technologies like Artificial Intelligence, Machine Learning, Blockchain Technology, Augmented Reality, Virtual Reality, Mixed Reality, etc., our resources upholds a high level of proficiency and expertise. Their mastery over the latest development practices, in turn, help you in implementing the best practices in a hassle-free manner.
The support rolled out by our resources help you in overcoming all the hurdles that separate your business from being a successful one. It supplies your business with all relevant nutrients to make it a full-fledged one. The superlative support, maintenance, and round the clock availability of our resources make them a good hire and good resources to go with.
Our resource hiring model
We uphold a wide array of engagement models that offers more flexibility for our customers.
Offshore Development Center

ODCs are our flagship engagement model, where our resources employ seamlessly towards meeting your goals and accomplishing the milestones. Under this model, we help you onboard the right talents to make your dream come true. By going ahead with our ODC model, you are ideally made free of all tedious processes such as resource hiring, infrastructures, resource training, overheads, and much more.
Turnkey and co-owned projects

The turnkey and co-owned projects are known to be fixed-cost models, under which the development process takes place prior to determining the cost. The cost is calculated by considering various factors and parameters. The main advantage of our turnkey and co-owned projects is that you can avail of full-fledged services meeting the deadlines.
Build Operate Transfer

Our build operate transfer engagement model comes with a high degree of flexibility and reliability. It let you stay ahead of the services with our uninterrupted assistance and support. This engagement model is classified into three phases build, operate, and transfer. In the build phase, we help you set up everything from the scratch, including resource hiring, infrastructure setup, amenities, etc. When it comes to the operation phase, we ensure flawless operation of the system and in the transfer phase, the entire ownership of the system gets transferred to the clients upon request.
Frequently Asked Question's
The resources at DxMinds are onboarded after several rounds of the filtration process. We make sure that our resources are capable of meeting customer requirements to their fullest.
On-time delivery, futuristic solutions, and ground breaking technologies are some of the factors that separate DxMinds apart from other full-stack development companies in Ukraine.
Yes. We pay one hundred percent attention to protect the confidentiality of customer ideas and to put that into practice, we strictly stick to NDA policies and guidelines.