Hire Angular JS developers in USA
Businesses are actively looking forward to associate with the top AngularJS development companies in USA to hire the best AngularJS developers. The advantages put forward by AngularJS have skyrocketed its demand among the potential set of audiences, thereby prompting them in becoming the active beneficiaries of AngularJS. World-class level solutions are built leveraging AngularJS and it showcases how important it is in the current business eco-system. It is bridging the gap between businesses and customers, which resulted in enhancing the efficiency and profitability of organizations.
Your search for the certified AngularJS developers in USA ends up figuring out DxMinds Technologies. We are the best product engineering and resource augmentation agency incorporated with a vision to deliver potential services to our prestigious set of customers. Being the industry players for a long period of time, we are well-versed over the state of the art technologies and the best development practices. The services imparted by our resources take your business far more and beyond. It adds more mileage to your journey towards being successful.
Hire Dedicated Developers
Onboard the best AngularJS talents
By associating with DxMinds Technologies, you can seamlessly associate with top of the line resources that are among the front line when it comes to developing futuristic AngularJS solutions and services. The resources we help you hire are onboarded as a result of outpacing very difficult rounds of interviews that make them a potential hire. These resources analyze your business in detail, understand its operations to the ground level, and come up with earth biting solutions that meet and greet your requirement in a precise manner. Their services are agile, futuristic, and hold cutthroat innovation. Being one such agency that helps you onboard dedicated AngularJS developers in USA, all our mission and vision is keenly focused on aiming at customer success.
Hire cherry-picked AngularJS developers in USA
Our services are fabricated in such a way that our customers can make the most out of it. It empowers your business, nurtures it in the best possible manner, and makes it a standalone among a potential set of customers. Leveraging cutting edge technologies and best development practices our resources derives out groundbreaking solutions that enhance your business visibility and streamlines its day to day operations. It helps you streamline your day-to-day business operations, all for the good. Their services allow you to sit back and relax as it helps you get rid of all the hassles and bustles involved in running a business.
Our Angular JS development services
Custom AngularJS development
We come up with a successful track record developing custom AngularJS services. Our resources are trained to deliver their best and roll out optimal services that help us in delivering customized AngularJS services for our customers.
Our vast service offerings in the domain of AngularJS help you avail of full-fledged API development services in a hassle-free manner. It let you avail of services that go above and beyond your expectations, making your business a stand-alone.
Enterprise AngularJS development
To meet your enterprise requirement in precise and to deliver optimal AngularJS development services, we help you hire top-level resources. The services they deliver are designed to meet your organizational requirement and are parallel to global standards and guidelines.
The full-fledged UI/UX development services imparted by our resources are all you need to thrive hard in this tech-savvy era. Our team of professionals helps you in coming up with UI/UX services that are not only customer engageable, but also futuristic to the core.
Being the top AngularJS development company in USA, we offer end-to-end consultation that makes your business stay ahead of the race. Our AngularJS consultants are profound technologists who can redefine your business frameworks, all for the good
The quality in AngularJS migration services we offer helped us in being the best service provider. Our services are crisp, agile, and disruptive. It helps you flourish your business like no way before.
Advantages of hiring AngularJS developers from DxMinds
Our AngularJS developers are always in the limelight as they roll out services that help us gain huge traction from the global community. The developers we help you hire upholds a wide array of advantages and peculiarities that help businesses good to go with these resources.
At all times, we pay scrutinized attention to each detail when it comes to hiring top AngularJS developers in USA. We infiltrate the hiring process to make sure that only the right candidates are getting onboarded, which will directly get reflected in the services they impart. Our resources are highly professional and stick n to ethics and morals when it comes to delivering services. One can seamlessly expect one hundred percentage professionalism from our set of resources, no matter what.
Our resources are highly committed to delivering their best, all the time round. Their commitment helps them in making a potential hire in the global market. Their services help you scale your business in a seamless manner and shift it to newer heights.
Of all the AngularJS developers who deliver potential full-fledged services, one will find it hard to hire resources that are as economical as our resources. They are highly productive and cost-efficient. All these factors combine together to make them the best AngularJS developers in USA.
Organizations can seamlessly rely upon our resources when it comes to delivering quality solutions in a timely manner. They are highly responsive and are committed to accomplishing the tasks assigned to them with a high degree of accuracy.
Developing any sort of digital solution in this tech-savvy era not only demands proficiency over that particular technology, but one needs to have their hands on top of all the existing tools and technologies. To put that into perspective, our resources come up with having a high degree of mastery over all available technologies such as Artificial Intelligence, Machine Learning, Blockchain technology, Augmented Reality, Virtual Reality, Mixed Reality, IoT, etc. This will help our clients in availing top of the line services in a seamless manner.
To enhance the flexibility and potentiality of the services we deliver, we have fabricated a wide array of engagement models for our customers to make the most out of it.
Offshore development center
Offshore development centers, popularly known as ODCs are one of our flagship kind of engagement model. Under this model, we help our customers to closely associate with world-class resources that can nurture their development process to its core. Our ODCs are just an extended version of our customer workplace overseas where top resources employ them in a hassle-free manner. The ODCs are meant to breakdown the tedious part involved in developing solutions and help customers save about 40–45% of the development cost. The resources we onboard go parallel to your organizational norms and guidelines and employs the way same as your in house employees, round the clock.
Turkey and co-owned projects
The turnkey and co-owned projects are also known to be a fixed cost model. When a customer approaches us for going ahead with the fixed cost model, we analyze their business requirement in detail, structure the scope of the work, and come up with designing the prototype with a competitive pricing structure. Once the customer is good to go with the inputs, we go ahead developing the same. Under this model, the resources will be charged on an hourly or on monthly basis and the payments are done upon accomplishing milestones.
Build Operate transfer
The engagement model of Build, Operate, and Transfer adds a high amount of flexibility and transparency to our customer business. They are designed to meet customer requirements precisely. The BOT engagement model fits the best for customers whose project development consumes a long period of time. As the name denotes, BOT is classified into three phases, Build, Operate, and transfer. The build phase consists of building everything from the scratch including amenities, resources, infrastructures, etc. The operate phase is designed to ensure that the wholesome of the system is running flawlessly and the transfer phase is all about transferring the ownership of the entire system to the customers upon request.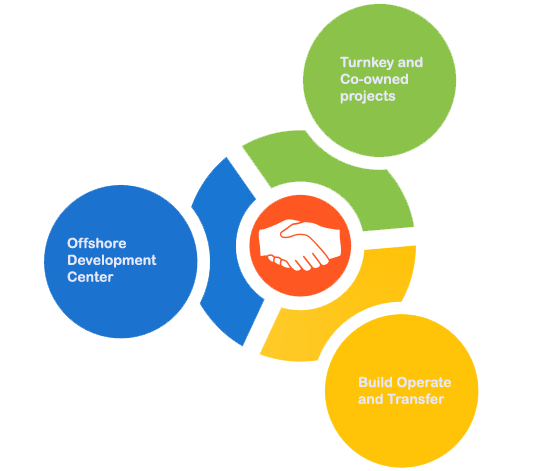 Frequently Asked Question's